Blu-ray Review: 'The Fox And The Hound 1 & 2'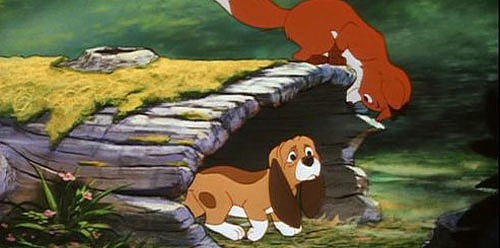 Ready to ring in both the old and new – animated style?  Then look no further then the now available Blu-ray 30th Anniversary combo release of both the original "The Fox and the Hound" and its sequel "The Fox and the Hound II" from Walt Disney Studios Home Entertainment.  Check out the Hi-Def specs and animated visual skinny below!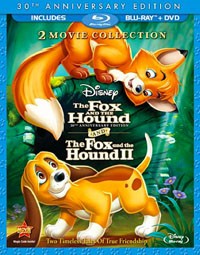 Title: "The Fox and the Hound 1 & 2" (30th Anniversary Edition)
   Grade: 3 1/2
   Cast: Voices of Mickey Rooney, Kurt Russell, Patrick Swayze
   Director: Various
   Rating: G
   Runtime: 83 minutes/69 minutes
   Release Company: Walt Disney Studios Home Entertainment
   Website: www.DisneyBluray.com  
The Flicks: I had forgotten just how dark, moving and topical the original The Fox and the Hound was.  With its bold messages of friendship lost and found, society pressures, and the problems with class systems, the first film really dove head first into territory that all kids should be aware of.  Plus with voices of the legendary Mickey Rooney and newbie Kurt Russell at the helm, there's just interesting written all over this striking looking Blu-ray Disney outing.  By comparison the second film goes back to the two lead critters as kids and produces a fluffy outing void of any and all gumption, instead choosing to go way politically correct.  (It only proves the old days at Disney were truly groundbreaking!)  Look, when the voices featured are Patrick Swayze and Reba McEntire, you know what you're in for – two times is not the charm here.
Best Feature: For the kids the featurette 'Unlikely Friends' is a nice dissection of fact or fiction when it comes to real pairings in the animal kingdom.  (Cats and dogs – friends or foes?)
Best Hidden Gem: For the adults the doc 'Passing the Baton' is a candid look at new animators coming in to replace the classic ones during the first film – Disney history is ever fascinating.
Worth the Moola: The original, however dated, is far superior to the sloppy second sequel and therefore makes this set have ups and downs – not like the fox and hound relationship itself.