Blu-ray Review: 'The Expendables: Extended Director's Cut'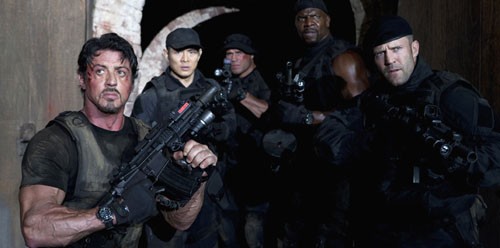 So you thought the last Stallone outing was already a decent guns and ammo treat?  Well then feast your eyes on the upgrade via the new "The Expendables: Extended Director's Cut" out Dec. 13 from Lionsgate.  Does Stallone provide more backbone – check out the action stats below!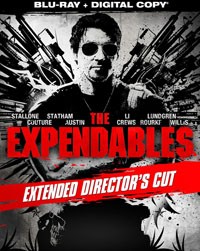 Title: "The Expendables: Extended Director's Cut"
   Grade: 4 1/2
   Cast: Sylvester Stallone, Jason Statham, Jet Li
   Director: Sylvester Stallone
   Rating: Unrated
   Runtime: 114 minutes
   Release Company: Lionsgate
   Website: www.lionsgatebluray.com
The Flick: Amidst the already blood and guts heavy previously memorable theatrical release, what this Extended Director's Cut does have that's new is a whole different flair when it comes to the characters.  Meaning the guys in the gang are much more fleshed out, given time to add their own action and bravado quirks and the new overall tone just puts an even stronger emphasis on each of the Expendables themselves.  (Especially love Dolph Lundgren's work here!)  In his new cut, Stallone adds cool scenes, some different and inspired music and overall feels like he's not afraid to take his time with the cool 80's throwback style material.  What you've got here is a flick that still bows to the bravado, but now has the attention to character detail to back it up.   
Best Feature: The four part making-of doc titled 'Inferno' is super detailed and tasty as is the 'On Directing' featurette about Stallone, but it's the two candid 'Intros' (one on the set of "The Expendables 2!") by Stallone himself that set the stage for the new work within.
Best Hidden Gem: The scene with Stallone, Schwarzenegger and Willis in the same scene still brings a smile to the action geek within us all!
Worth the Moola: Not only does this Director's Cut blow away the already fine first version, but it also kicks it in the face with an abundance of extras just for good measure!