Blu-ray Review: 'The Expendables 2'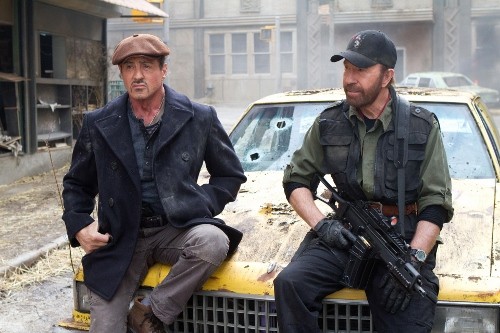 Ready to get it on with the real action guys a second go around?  Then follow the carnage as we review a second helping in the form of the Blu-ray release of "The Expendables 2" out Nov. 20 from Lionsgate Home Entertainment.  The adrenaline and review hit hard below!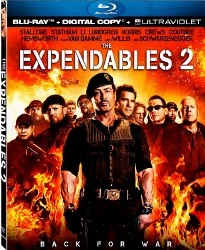 Title: "The Expendables 2"
   Grade: 4
   Cast: Sylvester Stallone, Jason Statham, Jean Claude Van Damme
   Director: Simon West
   Rating: R
   Runtime: 102 minutes
   Release Company: Lionsgate Home Entertainment
   Website: www.lionsgateblu-ray.com
The Flick: More tongue-in-cheek and therefore much more fun than the first outing, "The Expendables 2" under the more popcorn built direction of Simon West hits all the blockbuster notes.  The comedy (any "Die Hard" or Schwarzenegger be back references anyone?!), the cool (does that awesome bastard Chuck Norris ever age?!), the drama (Van Damme does make a pretty scary bad guy!) and the action (more kills and carnage galore!) all flourish under the ample skill of West.  Plus I'll admit it was very nostalgic to see all my favorite action guys growing up do more together – it's much fun to run with the muscle pack this time around.
Best Feature: 'Big Guns, Bigger Heroes: The 1980's and the Rise of the Action Films' is a thorough and totally fascinating look at the flicks that built these guys – so good it should have its own documentary DVD release!
Best Hidden Gem: Norris, an ageless and timeless tough guy, still kicks ass and looks cool doing it.
Worth the Moola: For the sheer fun factor, two times a charm.