Blu-ray Review: 'The Count Of Monte Cristo'
Ready to check out the crisp sounding swordplay of Jim "Passion of the Christ" Caviezel and Guy "Memento" Pearce in Blu-ray?  Check out the review below of the now available "The Count of Monte Cristo" from the folks at Disney/Touchstone Home Entertainment – rules of sportsman conduct below!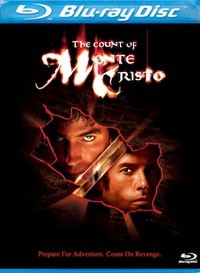 Title: "The Count of Monte Cristo"
   Grade: 3 1/2
   Cast: Jim Caviezel, Guy Pearce, Richard Harris
   Director: Kevin Reynolds
   Rating: PG-13
   Runtime: 131 minutes
   Release Company: Disney/Touchstone Home Video
   Website: www.BVHEBluray.com
The Flick: Despite the so-so direction of Kevin "Waterworld" Reynolds on this one, it's the acting that saves this version of "The Count of Monte Cristo" from being an updated fluff piece.  Leading foes Jim Caviezel and Guy Pearce do more than justice to the material (plus Pearce never met a bad guy role he didn't relish!), while the great Richard Harris also shines with a thankless role that could have been a walk through in the hands of anyone else.  Plus side characters like the ever-solid Luis Guzman as Caviezel's right hand man, Michael Wincott as a stern jail warden and Dagmara Dominczyk as the lady they both lust after all hold their own.  It's just too bad that for all the immense acting talent on board this vessel, the captain of the ship still needs a few lessons in sailing.
Best Feature: Guilty pleasure – liked the multi-angle sword fighting featurette 'En Garde' and surprisingly Reynolds has some half decent tips for budding filmmakers.
Best Hidden Gem: Again, Richard Harris stuns in every scene he's in – should have been nominated for an Academy Award for this work.
Worth the Moola: Fortunately substance of acting wins out over the studio style of director Reynolds and makes this picture and sound perfect Blu-ray Monte Cristo chap count.