Blu-ray Review: 'The Conversation'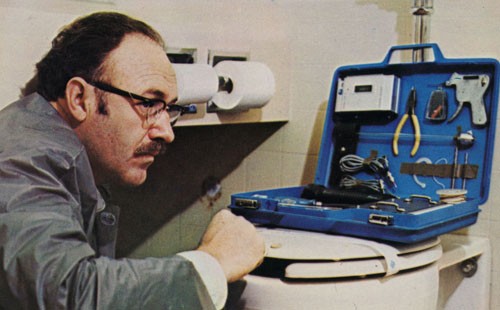 Remember a time when audio was reel to reel and surveillance done the old fashioned way?  If not you need to check out the classic Francis Ford Coppola 1974 thriller "The Conversation" out this week from Lionsgate Home Entertainment starring the great Gene Hackman.  The tapped info below!
   Title: "The Conversation"
   Grade: 4
   Cast: Gene Hackman, John Cazale, Harrison Ford
   Director: Francis Ford Coppola
   Rating: PG
   Runtime: 113 minutes
   Release Company: Lionsgate
   Website: www.lionsgatebluray.com
The Flick: While obviously dated in its old school form of technology, "The Conversation" holds up due to it's tense pacing and engrossing story.  As quiet and cautious wire-tapping master Harry Caul, Gene Hackman is the perfect man with a haunted past and makes his spiral into conspiracy and paranoia all the better. (He's like the father to John Travolta's character in Brian De Palma's "Blow Out!")  Not to mention that Coppola has a cast consisting of effective early work by the likes of Harrison Ford, John Cazale (love that guy!), pre-"Laverne & Shirley" Cindy Williams, Robert Duvall and even the underrated Frederic Forrest – all shine.  Pay phones, tape recordings and binoculars – they don't make them like they used to.  
Best Feature: The new interviews and old commentary by Coppola are cool, but I would go with 'Close-Up on The Conversation Featurette,' which has some fly on the wall moments of Coppola directing Hackman – priceless.
Best Hidden Gem: Early Teri Garr as Hackman's mystery girl - hubba, hubba.
Worth the Moola: With a tangible and palpable tension, this is one conversation worth having.