Blu-ray Review: 'The Conspirator'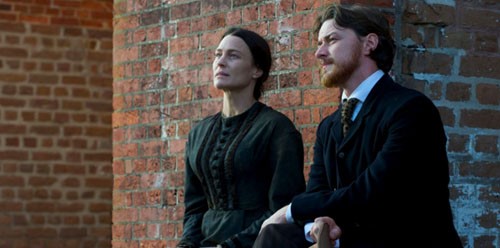 Ready to get some historical insight courtesy of an all-star cast?  Then look no further then the current release "The Conspirator," now available on DVD and Blu-ray from Lionsgate.  Check out the specs of old below!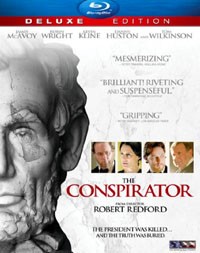 Title: "The Conspirator"
   Grade: 3 1/2
   Cast: James McAvoy, Robin Wright, Kevin Kline
   Director: Robert Redford
   Rating: PG-13
   Runtime: 122 minutes
   Release Company: Lionsgate
   Website: www.lionsgatebluray.com  
The Flick: With a very slow and arduous start, "The Conspirator" emerges as a pretty riveting little piece of history.  Starting with the assassination of President Lincoln, the film then moves to the trial of guilty by association mom Robin Wright as defended by war hero James McAvoy and that's when the cinematic sparks begin to fly.  Not to mention that director Robert Redford has assembled a who's who of great actors (Kevin Kline to Stephen 'red stapler' Root!) to fill in his flick and it goes a long way when things start to drag.  It's a mixed bag of tricks – some good, some bad, but all entertaining.
Best Feature: Amidst the plethora of way too many historical docs (all the History Channel freaks your ship has come in!), it's the Commentary and Bonus View features with Redford talking everything from characters to casting that gets the vote.
Best Hidden Gem: Yet another thoughtful turn by the captivating Evan Rachel Wood as Wright's fragile daughter – scene-stealing stuff!
Worth the Moola: Renting this one might be worth a night's entertainment, but multiple viewings don't seem to be in "The Conspirator's" future.