Blu-ray Review: 'The Cabin In The Woods'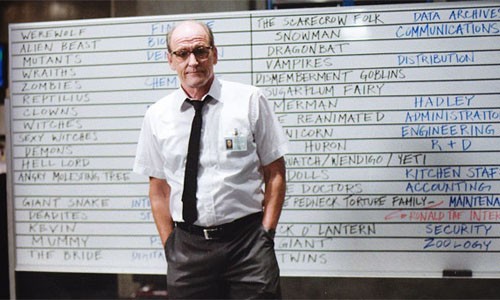 Ready to head out to the woods for a little blood and gore outdoor fun?  Then choose your category and place your bets as we review to the new to Blu-ray "The Cabin In The Woods," out Sept. 18 from Lionsgate Home Entertainment.  The wooden review door opens below!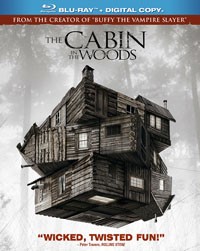 Title: "The Cabin in the Woods"
   Grade: 2 1/2
   Cast: Chris Hemsworth, Richard Jenkins, Bradley Whitford
   Director: Drew Goddard
   Rating: R
   Runtime: 95 minutes
   Release Company: Lionsgate Home Entertainment
   Website: www.lionsgatebluray.com
The Flick: Even though I was mocked for my review of "The Cabin in the Woods" during the theatrical run (see the comment section!), I still stand behind my opinion on this one.  There's some interesting ideas presented in the film that unfortunately just aren't fully realized.  Meaning on the good side there are some twists on old horror conventions and some unconventional and interesting stuff via the scenes with button down desk jockeys Richard Jenkins and Bradley Whitford.  But on the dim side with nobody memorable enough to root for and a conclusion that comes way too late in the game, this Cabin isn't built to last.  (Again an A for effort guys!)  
Best Feature: The feature length drinking 'Commentary Track' with Drew Goddard and Joss Whedon is like hanging with two friends – and it's even better then the film!
Best Hidden Gem: The 'Secret Secret Stash Featurette' has a tasty tour with guide Joss "Avengers" Whedon, plus the Blu-ray box adds another hidden layer to the already amazing poster design.
Worth the Moola: For those desperate for some kind of notable horror action...fast forward to the last fifteen minutes.