Blu-ray Review: 'The Burning - Collector's Edition'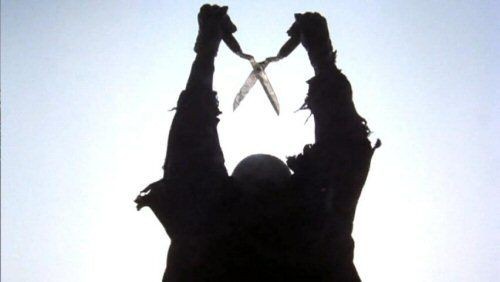 A little 80's hedge-clipping mayhem anyone?!  We're checking out the new to Blu-ray "The Burning -Collector's Edition" out May 21 from Shout! Factory's horror division Scream Factory.  The legend of Cropsy gets reviewed below!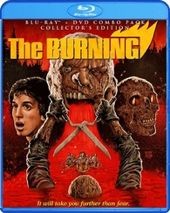 Title: "The Burning - Collector's Edition"
   Grade: 3 1/2
   Cast: Jason Alexander, Fisher Stevens, Leah Ayres
   Director: Tony Maylam
   Rating: R
   Runtime: 91 minutes
   Release Company: Shout Factory! Home Entertainment
   Website: www.shoutfactory.com
The Flick: To say this one is 80's fromage is an understatement – "The Burning" makes "Friday the 13th" look like "Citizen Kane."  The only thing that saves this terror turkey is some interesting camp kid casting (would you believe "Seinfeld's" Jason Alexander, "Short Circuit's" Fisher Stevens, "Fast Times at Ridgemont High's" Brian Backer and a short appearance by Holly Hunter?!) and some highly memorable blood and gore effects by make-up master Tom Savini.  (And a killer cover doesn't hurt either!)  What's most interesting is that this was the first big project by the famed Weinstein Bros. – guess we all got to start somewhere! 
Best Feature: The features here are another story, with the Scream Factory team far surpassing the film in terms of quality.  It's a three way tie for best between fun detailed doc 'Blood 'n' Fire Memories' with a savory Savini, odd as his character interview with actor Lou David via 'Cropsy Speaks' and the always candid Jack Sholder on editing and the Weinstein's in the 'Slash & Cut' featurette – way to go Scream Factory!
Best Hidden Gem: Love in the audio 'Commentary' by director Tony Maylam how he keeps pointing out the comedian/actor that Brad Gray represented as Gray's only connection to the film – telling stuff!
Worth the Moola: A so-so flick that the good folks at Scream Factory have given a more lush special features treatment then it deserves – worth checking out!