Blu-ray Review: 'The Beast Of Hollow Mountain/The Neanderthal Man' Double Feature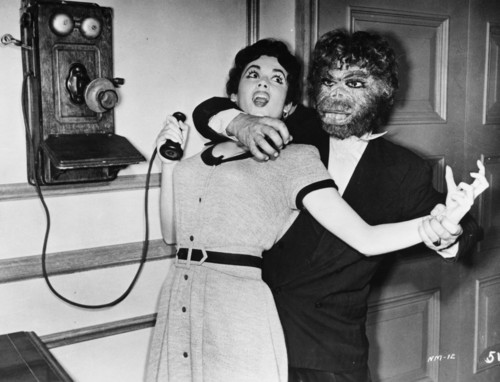 Ready to check out a little old school b-movie creature feature double feature?  Then follow us as we check out the new to DVD flicks "The Beast of Hollow Mountain/The Neanderthal Man Double Feature" out now from Shout! Factory's Horror Division Scream Factory.  The flicks get reviewed below!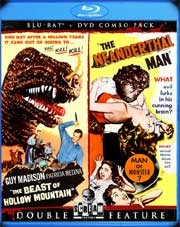 Title: "The Beast of Hollow Mountain/The Neanderthal Man Double    Feature"
   Grade: 3
   Cast: Guy Madison, Robert Shayne, Beverly Garland
   Director: Various
   Rating: Not Rated
   Runtime: 158 minutes
   Release Company: Shout! Factory Home Entertainment
   Website: www.shoutfactory.com
The Flick: Can't beat a little stop motion animation and old time creature transformations – meaning this collection of two classic creature features is a cheesy yet still fun time.  "The Beast of Hollow Mountain" is more like a relationship triangle flick between an American cowboy, a pretty dame and her possessive tough Mexican suitor with a bit of dino stuff thrown in for good measure.  It's a mildly amusing Sunday afternoon fare flick with some fun effects by famed innovator Willis O'Brien.  "The Neanderthal Man" fares much better with a mad scientist taking his own potion designed to make animals regress back to their primitive ancestor form – hence Neanderthal Man!  Some wolfman-esk poor man's transformation stuff that's keeps the cheddar factor alive and well.
Best Feature: No features on this sucker – where's a historian when you need one!
Best Hidden Gem: Before he tested it on himself, the scientist gave some of the potion to his deaf/mute housekeeper (bastard!) – hence Neanderthal woman!
Worth the Moola: Fun fluff for an unfulfilled Friday afternoon B-film fest.