Blu-ray Review: 'The Barrens'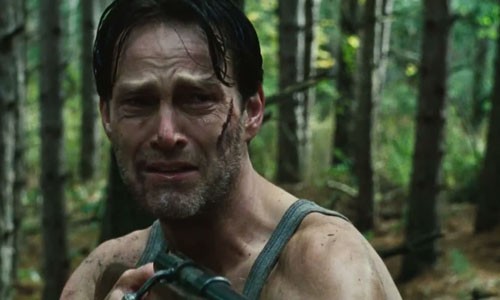 Ready for a little Jersey Devil vs. Stephen Moyer action?  (Sounds like a mid-season episode of "True Blood!")  Well then check out our review of the new to DVD/Blu-ray flick "The Barrens," out Oct. 9 from Anchor Bay Home Entertainment.  The review and battle for barren blood begins below!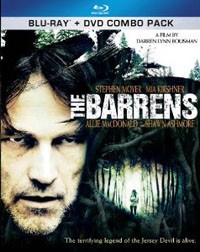 Title: "The Barrens"
   Grade: 3
   Cast: Stephen Moyer, Mia Kirshner, Allie MacDonald
   Director: Darren Lynn Bousman
   Rating: R
   Runtime: 97 minutes
   Release Company: Anchor Bay Home Entertainment
   Website: www.anchorbayent.com
The Flick: "The Barrens" is a classic case of a film all over the place.  Normally Darren Lynn Bousman has a pretty distinct vision when it comes to his work, but this one has a distinct made in the edit room vibe.  Is it a dull terror tale about the famed Jersey Devil said to inhabit the Jersey pine forests, an examination of a man going mad or just a bad horror outing with little to no scares and an unsatisfying ending?  Plus the likes of Moyer and especially the magnetic Mia Kirshner ("Exotica" still haunts me!) are all but wasted – not to mention the said monster looks like it's straight out of the Corman school of cheapskate.  I was a tad confused exactly what "The Barrens" was while watching it, but whatever it may be it wasn't good.
Best Feature: So why give this thing three stars after the above review?  Because not only does the candid 'Commentary Track' by Bousman and DOP Joseph White confirm all my thoughts on the films' problems, but it's a brutally honest track that serves as a warning to those out of their league. (aka a MUST listen!)  Bousman fully admits to being on shaky ground here with the shooting days (they cut them almost by half!), the monster (it couldn't move!) and the actors (he mentions that he hopes Moyer forgives him!) – it makes this one worth buying hands down.  (Plus yes, Darren – the alternate ending is better!)
Best Hidden Gem: See above – the track is everything.
Worth the Moola: Even with the above, watch the flick first, as it's almost required reading to truly appreciate the magic of a commentary track that kicks ass.