Blu-ray Review: 'The Angriest Man In Brooklyn'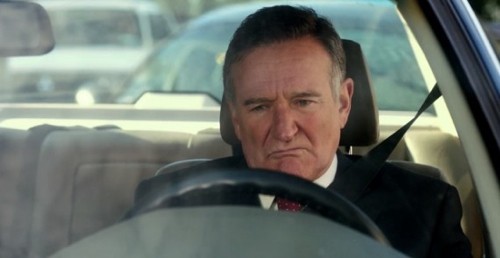 Ready to be angry – and enjoy it?  Then follow us as we check out the new to Blu-ray flick "The Angriest Man In Brooklyn" out now from Lionsgate Home Entertainment.  We review the ups and downs of all things angry below!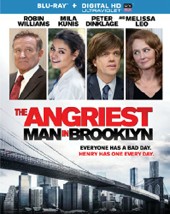 Title: "The Angriest Man In Brooklyn"
   Grade: 3 1/2
   Cast: Robin Williams, Mila Kunis, Peter Dinklage
   Director: Phil Alden Robinson
   Rating: R
   Runtime: 84 minutes
   Release Company: Lionsgate Home Entertainment
   Website: www.lionsgateshop.com
The Flick: "The Angriest Man In Brooklyn" is one of those rare films that wants to have its cake and eat it too and somewhat succeeds.  Meaning the film is loaded with ripe funny caustic utterances by ever-annoyed lead Robin Williams as a man who has been told he has 90 minutes to live, while at times maintaining a somber dramatic side that shows itself when needed.  Neither is remarkable, but certainly not underwhelming either.  The only down side to the film is the incessant use of voice over narration by both Williams and his guilty doctor played by Mila Kunis that at times not only distracts, but makes you feel like you're watching a bad stage play.  Otherwise bitter is better here.
Best Feature: The 'Behind the Rage' Featurette shows the genesis of the ideas, but the 'Gag Reel' has some particularly tasty footage of actor Peter Dinklage trying to keep a straight face while telling Williams to go out and get oral sex before death.
Best Hidden Gem: Peter Dinklage is deadpan wonderful as William's more serious brother.
Worth the Moola: At times both fun and deep, this angry man should not be ignored.