Blu-ray Review: 'The Amityville Horror Trilogy'

Ready to get your horror house cup filled to the brim?  Then follow us as we check out the new to Blu-ray set "The Amityville Horror Trilogy" out now from Shout! Factory's horror label Scream Factory.  We review the building – structure and spirit – below!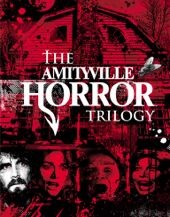 Title: "The Amityville Horror Trilogy"
   Grade: 4
   Cast: James Brolin, Diane Franklin, Tony Roberts
   Director: Various
   Rating: R
   Running Time: 316 Minutes
   Release Company: Shout! Factory Films
   Website: www.shoutfactory.com
The Flicks: Especially as a trilogy, all three Amityville flicks scream B-movie fun.  The original featuring odd couple James Brolin and Margot Kidder is a terror laugh riot complete with 70's scares and Rod Steiger holy speak.  Part 2 is a cross between the original and The Exorcist (though with cheesier male make-up!) with some very controversial incest overtones and a moody Burt Young.  (When is he not?!)  Part 3-D is all about the gamey especially with lead man Tony Roberts leading the pack.  All to be taken with a grain of salt, these flicks can be a fun filled night for the fan who knows what to expect.
Best Feature: Funny hearing James Brolin candidly talk about over-acting in the original, but I gotta give props to all the interviews taken for Part 2, especially talking with "topless in the movie" Diane Franklin about her brother/sister tryst.
Best Hidden Gem: I was gonna say some early Lori Loughlin and Meg Ryan in Part 3-D, but after hearing the mostly silent but ominously breathing full-length track on Part 2 from Author Alexandra Holden channeling her father's work I have officially changed my mind! 
Worth the Moola: Haunted houses are cool, but B-movie acting lasts forever.  Buy it.