Blu-ray Review: 'The Adventures Of Sharkboy And Lavagirl'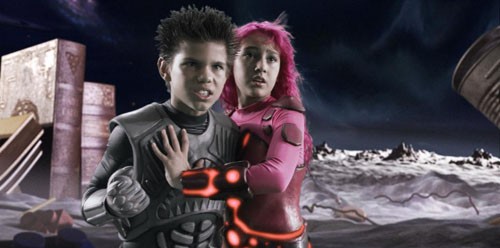 Ready to hit another kid flick via "Spy Kids" helmer Robert Rodriguez? (Plus a little early Taylor Lautner minus the wolf thing, but plus one shark fin?!)  Well, this time Rodriguez is bringing his whole family with him and the end result is the colorful movie "The Adventures of Sharkboy and Lavagirl," out now on Blu-ray from Lionsgate and Miramax Home Entertainment.  Check out the hot shark infested seas below!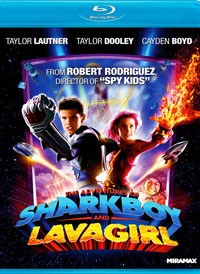 Title: "The Adventures of Sharkboy and Lavagirl"
   Grade: 4
   Cast: Taylor Lautner, Taylor Dooley, Kristin Davis
   Director: Robert Rodriguez
   Rating: PG
   Runtime: 93 minutes
   Release Company: Lionsgate
   Website: www.lionsgatebluray.com
The Flick: I'll be the first to admit this one seemed a little too kid orientated for a big guy like me.  Meaning I can appreciate the family aspects of Robert Rodriguez's family affair flick (he wrote this one with the help of his sons and it's pretty creative!), but I had a feeling this film wasn't meant for me.  So I put my ten year old in front of this one and...he loved it!  From the create colors and worlds (Planet Drool is his favorite!) to the equally flamboyant characters (he loved George Lopez's arms as Mr. Electric!), the kid was fully hooked on every goofy and kid ridden moment that the Rodriguez clan dished out.  There is a serious child like vibe flowing throughout the flick and it's clear that it's not meant for stuffy dads who believe David Lynch is the adult answer to Willy Wonka.  It's written for, starring and made by kids for kids – cool imagination is for the young. 
Best Feature: The doc 'Creating Sharkboy and Lavagirl' is a truly comical look at how the film got made.  From pool chats to drawing sessions, Rodriguez literally takes the ideas and words out of his tots' mouths and makes it into a film – impressive stuff.
Best Hidden Gem: Seeing a young Taylor Lautner pre-"Twilight" as bad attitude youngster Sharkboy is funny stuff.
Worth the Moola: Forget your adult notions of what makes a good kid flick and let the munchkins decide.  Mine did – and his grade is above.