Blu-ray Review: 'TerrorVision / The Video Dead Double Feature'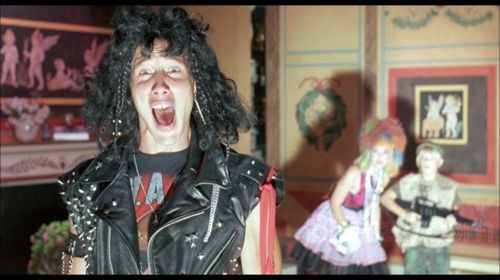 Ready for a little 80's horror double bill action?  Then follow us through deadly TV and undead monsters as we review the new to Blu-ray "TerrorVision / The Video Dead Double Feature" out now from Shout! Factory's horror division aptly titled Scream Factory.  The review times two lies below!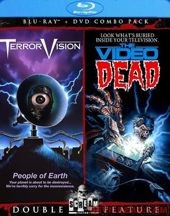 Title: "TerrorVision / The Video Dead Double Feature"
   Grade: 3 ½ / 1
   Cast: Jon Gries, Mary Woronov, Roxanna Augesen
   Director: Ted Nicolaou / Robert Scott
   Rating: R / R
   Runtime: 81 / 90 minutes
   Release Company: Shout! Factory Home Entertainment
   Website: www.shoutfactory.com
The Flick: What's so funny about this double bill is that other then both being from the 80's era, these two films are worlds apart content and quality wise.  On the good side there's the quirky and B-movie fun "Terror Vision," a totally cheesy but totally amusing film featuring an alien out to eat humans through a little satellite TV.  The effects are effectively ripe (the monster is like a deranged and mangled Snuffleupagas!), the tone is pure camp and the cast – including a sexy yet sinful Mary Woronov and mindless Jon Gries – is top notch for such base material.  On the flip side (aka bad!) is the mundane and uninspired "The Video Dead," which has no charm, no charisma, bad acting and features zombie make-ups that my ten year old could outdo.  There's nothing hidden within this forgettable gem – the crap is all on the surface.  
Best Feature: There's a fabulous Commentary with Director Ted Nicolaou and actors Diane "Better off Dead" Franklin and Jon "Uncle Rico" Gries, but it's the all out 'Monsters on Demand' making-of featurette that gets the terror blood pumping.  Again, all the features on "The Video Dead" seem equally lifeless as the flick, but the featurette 'Pre-Recorded' on the make-up effects is best in that the creators seem to be making excuses for the raw work.
Best Hidden Gem: Again, love seeing early Gries as a local stoner and the only gem within Dead is the shot of the head coming out of the TV like in the poster.
Worth the Moola: Wish "Terror Vision" was on it's own as it seems to be carrying the weight of the cool factor in this double bill.