Blu-ray Review: 'Tarantino XX: 8-Film Collection'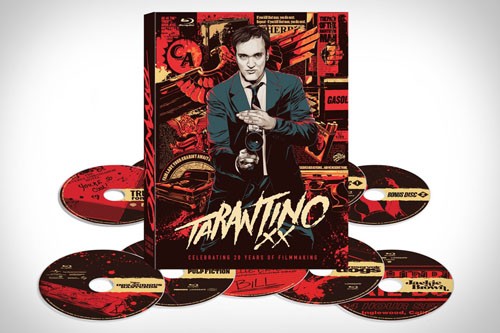 Nothing says original like a plethora of all things Tarantino.  That's why were checking out the very large new 10-disc Blu-ray set celebrating the maverick filmmaker entitled "Tarantino XX: 8-Film Collection" from Lionsgate Home Entertainment.  The bad mother wallet and set opens below!
Title: "Tarantino XX: 8-Film Collection"
Grade: 3
Cast: Uma Thurman, Pam Grier, John Travolta
Director: Quentin Tarantino
Rating: R
Runtime: 1043 minutes
Release Company: Lionsgate Home Entertainment
Website: www.Lionsgatebluray.com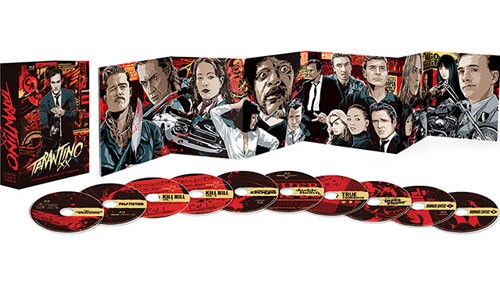 THE FLICKS
I first became aware of Quentin Tarantino while watching a then unknown flick called "Reservoir Dogs" in the theater and I even early on I knew he was going to be a filmmaker to watch.  Dogs was cool, witty, sassy, even at times sinful and was unlike anything I had seen in cinema before.  My undying love for ALL things Tarantino continued through the years, but much like this set was tested and left barren at times.  "Reservoir Dogs" is a five star experience no doubt, but his follow up "Pulp Fiction" could quite possibly be the only film to get five and a half out of five.  Like Dogs the film was wholly original, but took all the things we began to equate Tarantino with (quick dialogue, savory music and rash story turns) and cranked up the wattage tenfold.  (Trapped in a store with a gimp and ball gag – who would have predicted that!)  Even Tony Scott's vision of Tarantino's story "True Romance" is a five star home run, with the late filmmaker adding his own visual layer of slick and sick that's very reminiscent of the stellar work he did showed in the underrated "Revenge" back in 1990.  The set includes these three masterworks of film and in a Blu-ray resolution they all look and sound amazing, but subsequent flicks prove some Tarantino trouble in paradise.  "Jackie Brown" (a film that was to be my present when it opened on Christmas Day 1997!) while having a cool nostalgia factor via Pam Grier and Robert Forster is like an anti-Tarantino outing.  Gone is the cool music (just a decent opening song does not a good soundtrack make!), cool dialogue (too much n-word for my taste!) and unpredictability (you could see Chris Tucker and Bridget Fonda's final fates from a mile away!) that Tarantino seemed to pride himself on.  "Kill Bill Vol. 1 and 2" is again a mixed bag with plenty of action and revenge, but extremely uneven and talky work for a film so long.  (Why no character background on Vivica A. Fox and so much for Lucy Liu?!)  "Death Proof" is an amazing grindhouse-esk classic whenever lead man Kurt Russell shows up on screen, but when he disappears so unfortunately does the interest.  (Plus that talky table scene shames the one in "Reservoir Dogs!")  "Inglourious Basterds" again goes on way too long and is seriously underdeveloped thus featuring a team of Basterds that are highly unmemorable.  (Besides Aldo, Hugo Stiglitz and Eli Roth's Bear Jew, I dare you to name any of the other team members!)  There is sheer lingering brilliance in the form of Nazi Christoph Waltz, but it's not enough to elevate Basterds from being a mish-mash of interesting ideas unattended to.  (Plus that lame scene with Mike Meyers should have hit the cutting room floor!) 
Bottom line on the flicks is they seemed to be tighter, smarter and more cohesive when Tarantino had less creative control early on.  The inflated, over indulgent and unfocused latter work of the still brilliant Tarantino feels like a case of too many "yes men" not saying what needs to be stated – less is more Quentin.