Blu-ray Review: 'Tank Girl - Collector's Edition'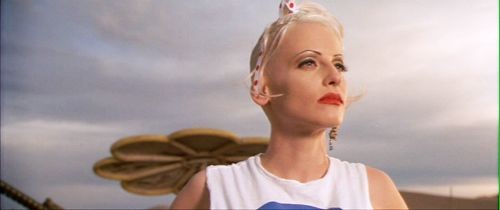 Ready to run with the zany Lori Petty?  Then follow us as we review the classic cult flick now hitting Blu-ray "Tank Girl – Collector's Edition" out now from the good folks at Shout! Factory.  We feel inadequate and we're gonna review it!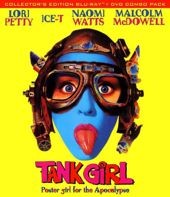 Title: "Tank Girl – Collector's Edition"
   Grade: 4
   Cast: Lori Petty, Naomi Watts, Malcolm McDowell
   Director: Rachel Talalay
   Rating: R
   Runtime: 103 minutes
   Release Company: Shout! Factory Home Entertainment
   Website: www.shoutfactory.com
The Flick: "Tank Girl" is one of those films you either love or hate.  Having been a big Lori Petty fan from "Point Break" to "A League of Their Own," I remember and still do adore the flick.  With just the right amount of quirk, cult and inspired Petty attitude, "Tank Girl" dared to defy the regular comic conventions and create a female anti-hero with sass.  Plus this one has an early Naomi Watts as her trusty sidekick, Malcolm McDowell as the resident baddie and even some Ice-T in late great Stan Winston makeup as one of the Rippers.  Look, some may be threatened by the ultra fem and cool chick vibe of Petty and her fabulous tank – not this guy. 
Best Feature: Definitely the tag team 'Commentary Track' with Director Rachel Talalay and Petty, the former who talk a lot about studio interference and what was asked to be cut – I demand a director's cut!  (Only thing missing that would have given this puppy five stars is a Watts interview on making the film - highly unlikely!)
Best Hidden Gem: There's also an interview with Production Designer and now big time "Twilight" Director Catherine Hardwicke who waxes nostalgia on her days working on "Tank Girl."  (Good extra!)
Worth the Moola: If you're a fan like me of all things Tank, all things Girl, this edition will roll right past your wildest expectations.