Blu-ray Review: 'Stallone 3-Film Collector's Set'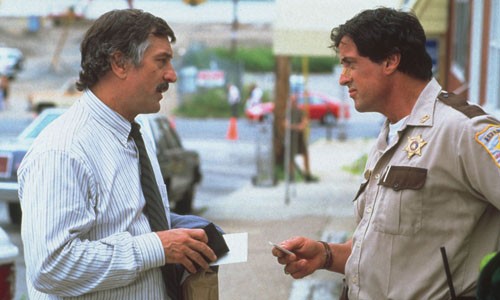 Ready for a little Blu-ray Sly Stallone...times 3?  Then check out our Blu-ray examination of the new "Stallone 3-Film Collector's Set" out now from Lionsgate Home Entertainment.  Cops, vets and inmates all reviewed below!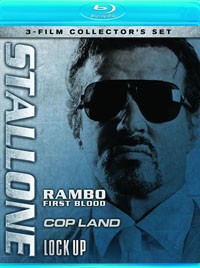 Title: "Stallone 3-Film Collector's Set"
   Grade: 4
   Cast: Sylvester Stallone, Richard Crenna, Donald Sutherland
   Director: James Mangold / Ted Kotcheff / John Flynn
   Rating: R
   Runtime: 327 minutes
   Release Company: Lionsgate Home Entertainment
   Website: www.lionsgatebluray.com
The Flicks:
"Cop Land" is a flick that was suppose to resurrect the acting prowess of Stallone but didn't and it's a shame as the work within is great stuff.  Wisely surrounding himself with actors better than himself like Robert DeNiro, Harvey Keitel and the scene stealing Ray Liotta as his unstable brother, Stallone does tone down the machismo factor to convincingly play a aging small town sheriff.  It's great work. 
"First Blood" (which I REFUSE to call "Rambo: First Blood" as that was not the title in the film!) on the other hand is a fantastic mix of brains and brawn with Stallone playing a tough yet vulnerable vet who gets pushed too hard.  Iconic side work by Brian Dennehy and the legendary Richard Crenna ('God didn't make Rambo – I made him!") make this one a Stallone classic.
"Lock Up" by famed "Rolling Thunder" and "Out for Justice" helmer John Flynn is one of those hidden gems in the Stallone collection that never got its due.  Featuring the hulking hero as an inmate who goes toe-to-toe with bloodthirsty warden Donald Sutherland (in a inspiring and sinister piece of work!), Lock out is one of the best Stallone flicks you haven't heard of.
Hidden Gems: For "Cop Land" you got some sassy feminine wiles courtesy of Janeane Garofalo, "First Blood" some early redheaded rookie cop from pre-"NYPD Blue" alum David Caruso and "Lock Up" has some very cool and memorable work from a very young Tom Sizemore.
Worth the Moola: I would say for fans this one will put some cool collection Sly in your eye.  (But isn't that Sly photo on the Blu-ray cover actually from "Get Carter" - just checking!!)