Blu-ray Review: 'Spy Kids: All The Time In The World'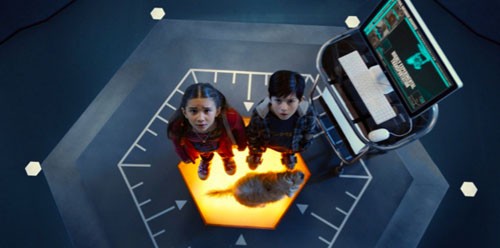 With three memorable outings, do you find yourself hungry for more mini-spy adventures?  Kid help via Robert Rodriguez is on the way in the form of "Spy Kids: All The Time In The World," out on Blu-ray/DVD on Nov. 22 from Anchor Bay Entertainment and Dimension Films.  Strap on a rocket pack and don the power glove – tots with toughness reviewed below!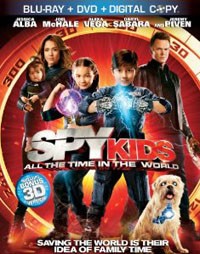 Title: "Spy Kids: All The Time In The World"
   Grade: 3 1/2
   Cast: Jessica Alba, Rowan Blanchard, Mason Cook
   Director: Robert Rodriguez
   Rating: PG
   Runtime: 88 minutes
   Release Company: Anchor Bay Entertainment/Dimension Films
   Website: www.image-entertainment.com
The Flick: For a fourth outing that also sports new kids, Rodriguez still makes World a fun ride.  Plus he's smart enough to mix his new kids (Rowan Blanchard and Mason Cook) with the now older original ones (still have it Alexa Vega and Daryl Sabara) for some old and new gadgets, effects, and gags that keep things interesting.  (Plus baddie Jeremy Piven gets the job done – and in multiple roles!)  The only bad egg here is lame father Joel McHale, who comes off wooden and all around gamey – bad choice in casting.  (He even makes the normally stoic Jessica Alba look like a wild woman!)  Good enough to entertain the tots, but still decent for the adults, this one is okay to check out...if you have time.
Best Feature: The 'Ricky Gervais as Argonaut' featurette which contains some wry Gervais riffing off the cuff – he's the man...or dog!
Best Hidden Gem: Again, Ricky Gervais as sassy dog Argonaut all but steals the flick out from underneath everyone!
Worth the Moola: Kids will eat it up – at least spy friendly ones.