Blu-ray Review: 'Silent Night'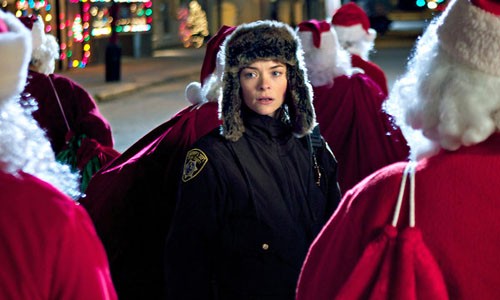 Santa is back – and he's donning a flame thrower.  Yup, it's time for a little remake cheer in the form of the new to DVD/Blu-ray of "Silent Night" out Dec. 4 from Anchor Bay Home Entertainment.  Naughty or nice, the review 'punishment' lies below!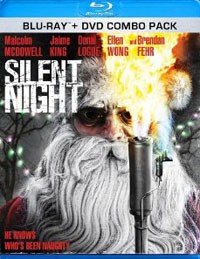 Title: "Silent Night"
   Grade: 2
   Cast: Jaime King, Malcolm McDowell, Donal Logue
   Director: Steven C. Miller
   Rating: R
   Runtime: 94 minutes
   Release Company: Anchor Bay Home Entertainment
   Website: www.anchorbayent.com
The Flick: As far as technical prowess, "Silent Night" looks far better then its former B-movie predecessors.  Problem is that any cheese movie charm is nowhere to be found here and makes it a good looking, but sadly hollow outing.  Best of the flick here is Jaime King (who is far better than this one deserves!) as a sullen and troubled cop out to find a killer.  She's unfortunately surrounded by bad performances (I'm a Malcolm McDowell fan, but he's phoning in his barren piece of work!), bad story turns (the whole 'who is Santa' gets tired fast!) and bad blood gags (little woman in a tree grinder, anyone?!) that make the original look like a layered Kenneth Branagh film.  And it's a shame because the flick seems to have its horror heart in the right place (there's a gratuitous nude chase that would give the one from "My Bloody Valentine 3D" a run for its money!) and Director Steven C. Miller recently made the very original "The Aggression Scale" that kicked serious original genre ass.  Win some, lose some - "Silent Night" needs holiday help even old St. Nick can't provide.  
Best Feature: There's sadly only a lame 'Behind the Scenes' that doesn't give much insight and 'Deleted Scenes' that don't add much either.
Best Hidden Gem: Again, King shows real acting talent even in a horror picture – give that gal some real work dammit.
Worth the Moola: If you're a Jaime King fan, you're in for a holiday treat – for all others Santa skipped you here.