Blu-ray Review: 'Sid & Nancy: Collector's Edition' - AVOID Like The Plague!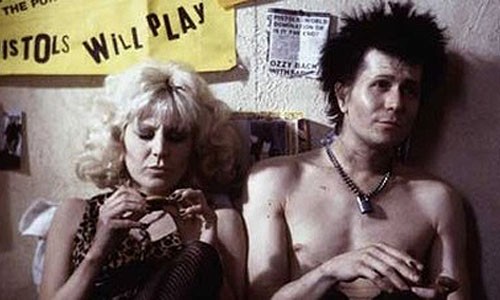 The story of the infamous Sex Pistols bassist and his needy gal pal titled "Sid & Nancy" is finally out in Blu-ray in a 'Collector's Edition' via MGM Home Entertainment.  Does the product meet with punk approval? (Hint - it doesn't look good!)  The totally uncensored opinion you won't want to miss waits below!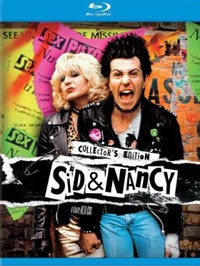 Title: "Sid & Nancy: Collector's Edition"
   Grade: 0
   Cast: Gary Oldman, Chloe Webb, David Hayman
   Director: Alex Cox
   Rating: R
   Runtime: 113 minutes
   Release Company: MGM
   Website: www.mgm.com
The Flick: Only a man with a brilliantly askew sensibility the likes of Director Alex Cox (yes, the man who made the underrated "Repo Man!") could take a seemingly unpleasant subject like this one and make it soar.  Cox does delve deep into the drug-addled mind and persona of "Sid & Nancy," but also surprisingly paints a stunning visual picture of a love and loyalty amongst a cornucopia of chaos.  As his male and female muse, Gary Oldman and Chloe Webb literally transform themselves into the famed couple in work that doesn't feel like acting at all, playing out like a demented doc we're not supposed to see.  But however destructive, dark and damning, "Sid & Nancy" is a must see. 
Best Feature: MGM really dropped the ball on this one and it makes me super angry.  How can a disc be known as a 'Collector's Edition' and have only two featurettes – all of which by the way are glaringly minus ANY comments or insight via Gray Oldman, Chloe Webb or Alex Cox? (Where the hell are you guys?!)  Oh, wait!  You do get info from the likes of a Rolling Stone editor, Kurt Loder of MTV News and special guest Owen Gleiberman who all claim to know about the film and real-life stars.  Sid Vicious himself would have cried asswipe foul on this one – 'Collector's Edition' my rear!
Best Hidden Gem: There is a theatrical trailer – winning!  (Sarcasm folks!)
Worth the Moola: While the flick is amazing, I'm crying out for a firm boycott on this product.  Until Cox, Oldman and Webb get off their lazy duffs and MGM forks some bread their way so fans of this material can get the goods they've been waiting years for, I say stomp this version Sid Vicious style and never look back.