Blu-ray Review: 'She's All That'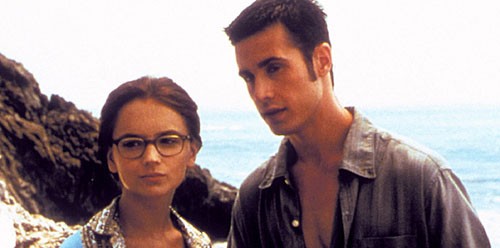 Ready to go from dirty duckling to swaying swan all over again?  Then check out the famed geek to chic teen outing "She's All That," hitting Blu-ray on Jan. 3 from Lionsgate Home Entertainment.  To be young again!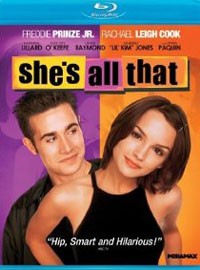 Title: "She's All That"
   Grade: 4
   Cast: Freddie Prinze Jr., Rachael Leigh Cook, Matthew Lillard
   Director: Robert Iscove
   Rating: PG-13
   Runtime: 96 minutes
   Release Company: Lionsgate
   Website: www.lionsgatebluray.com
The Flick: A glossy homage to the John Hughes school of teen angst, "She's All That" works on many levels.  The script, taken from Shaw's 'Pygmalion,' is given a decent modern upgrade, a ton of memorable moments (the whole Matthew Lillard dance number is ingrained in my mind FOREVER!) and some savory characters (even dads Kevin Pollack and Tim "Animal House" Matheson stand out!).  But what really makes the spirited flick good is the fantastic early-in-their-careers young cast; Freddie Prinze, Jr., Rachael Leigh Cook (hubba, hubba!), Paul Walker, Anna Paquin and Kieran Culkin just to name a few.  Not only does helmer Robert Iscove know how to make a decent teen flick, but he knows how to pick 'em.
Best Feature: The 'Audio Commentary' by Iscove has some cool bits like talk of the typical Harvey Weinstein tinkering (Don't be offended Robert – compared to Guillermo del Toro and "Mimic" you got off light!) and even cast cockiness (Walker asked Iscove if he was sure he wanted the best friend to be better looking then the leading man – real humble Paul!) – it's a great listen.
Best Hidden Gem: Again, Lillard's I-think-I'm-Travolta dance scene steals the show – that funky stuff.
Worth the Moola: Funny, clever, sweet, moving and even romantic – all that she is.