Blu-ray Review: 'Serendipity'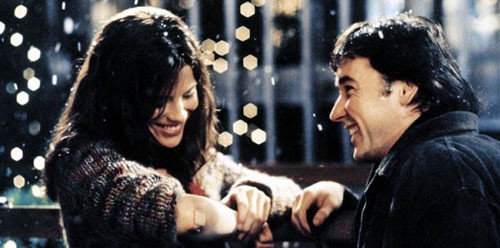 Is there such a thing as a happy accident when it comes to love or does fate guide the events that unfold before us?  Such are the deep questions take on by the romantic comedy "Serendipity" out Jan. 3 on Blu-ray from Lionsgate Entertainment.  Follow the wind blown black review love glove below!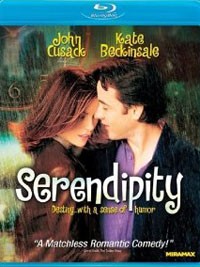 Title: "Serendipity"
   Grade: 2 1/2
   Cast: John Cusack, Kate Beckinsale, Jeremy Piven
   Director: Peter Chelsom
   Rating: PG-13
   Runtime: 91 minutes
   Release Company: Lionsgate
   Website: www.lionsgatebluray.com
The Flick: "Serendipity" owes a ton to both some fantastic opening dialogue and the chemistry between two likable leads John 'Grifters' Cusack and Kate "Brokedown Palace" Beckinsale.  The writing and acting in the first act of the film, which has Cusack and Beckinsale meeting by chance and hitting it off, is stellar stuff that captivates right off the bat.  Unfortunately, the rest of the film isn't treated with such a well-crafted hand, as there's enough slapstick (the very funny Eugene Levy is hilarious as an uptight salesman – and totally out of place here!), forced romance (the 'coincidences' that remind our lovebirds of each other become farcical!) and buddy-buddy action (Cusack with regular co-star Jeremy Piven, while Beckinsale's stuck with Molly Shannon!) to make even the giddy girl crowd cry foul.  I say let's get these two together in a film that has them side by side the whole time – good on-screen chemistry is a terrible thing to waste. 
Best Feature: The 'Extended and Deleted Scenes' with Director Peter Chelsom commentary actually shows an alternate opening that's lackluster and was then re-shot – one of the first times cut footage gave me more respect for director.  (Good show Peter!)
Best Hidden Gem: Did like seeing the extra scene with more Levy driving with a mannequin in the passenger seat – weird and out of place, but classic comedic stuff!
Worth the Moola: For all the love birds looking for a fate related romance, watch the first and last act...and then go rent an early Hanks/Ryan flick!