Blu-ray Review: 'Seal Team Six: The Raid On Osama Bin Laden'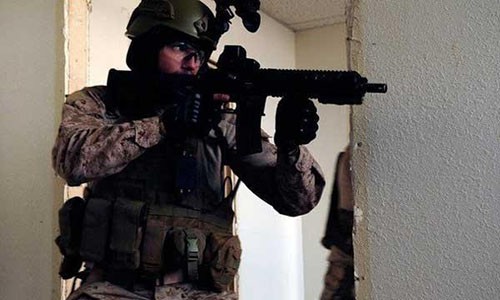 Still hungry for a little Osama movie payback?  Then check out our review of the new to Blu-ray action outing "Seal Team Six: The Raid on Osama Bin Laden."  The review of the manhunt begins below!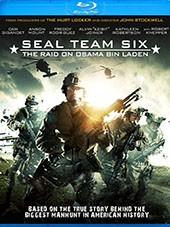 Title: "Seal Team Six: The Raid On Osama Bin Laden"
   Grade: 2
   Cast: Cam Gidget, Robert Knepper, Kathleen Robertson
   Director: John Stockwell
   Rating: Not Rated
   Runtime: 90 minutes
   Release Company: Anchor Bay Home Entertainment
   Website: www.anchorbayent.com
The Flick: What's funny about this second Osama hunt story from "the producer of The Hurt Locker" is how much of a mirror opposite it is to Kathryn Bigelow's "Zero Dark Thirty."  In the case of Bigelow's film the movie has a fantastic script and is totally story driven, but lacks the style and panache that fans have come to appreciate in the Kathryn Bigelow outing.  Seal Team Six on the flip side has a script and dialogue that's utterly laughable, but at least some inspiration via the visually creative approach by actor turned director John Stockwell.  Problem is that Stockwell's style seems more suited to fun summer fluff fare like "Battleship" then a hardcore tale about war.  Plus Kathleen Robertson does best Jessica Chastain in the looks department (who knew she would hold up so well!), but fails in the acting arena.  A sort of redheaded stepchild of "Zero Dark Thirty," Seal Team Six is like the "Navy Seals" of Osama hunt flicks.   
Best Feature: The Making of does have 'serious interviews' with all involved. (Yawn!)
Best Hidden Gem: Especially in heavy glasses, the sexy factor of Robertson is the lead in this manhunt - we're hot for teacher.
Worth the Moola: Didn't like the hard and desolate style of Bigelow's flick – welcome to "Zero Dark Thirty" for dummies.