Blu-ray Review: 'Saturn 3'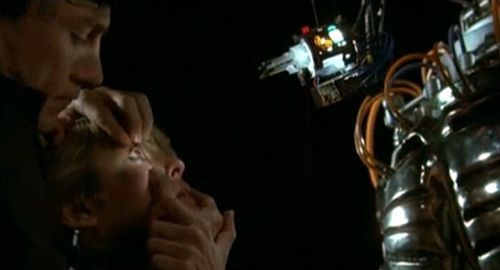 Ready to go toe to toe with a headless robot and an odd voiced Harvey Keitel?  Then follow us as we check out the new to Blu-ray sci-fi flick "Saturn 3" out now from Shout! Factory's genre division Scream Factory.  The thrills and metallic chills get reviewed below!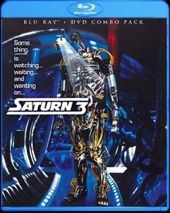 Title: "Saturn 3"
   Grade: 3
   Cast: Kirk Douglas, Farrah Fawcett, Harvey Keitel
   Director: Stanley Donen
   Rating: R
   Runtime: 88 minutes
   Release Company: Shout! Factory Home Entertainment
   Website: www.shoutfactory.com
The Flick: There's both good and bad in this 1980 sci-fi flick.  On the good side there's an aging but still able Kirk Douglas playing a rough and tumble scientist and Farrah Fawcett is on hand as the resident eye candy.  Not to mention that there are some pre-CGI effects here that still hold up.  On the down side we get what appears to be a cool and calculated Harvey Keitel performance, but with someone else's voice coming out of his mouth.  (HUH?!)  I know Keitel's low drawl may not be to everyone's liking, but for folks who are fans (like me!) it's distracting as hell here and makes for one odd outing. 
Best Feature: The 'Commentary Track' is by far the most comprehensive and candid due to Greg Moss of the Saturn 3 Fan Page dishing all the dirt on everything from the firing of John Barry to the replacement of Keitel's voice – love honesty in any form.
Best Hidden Gem: Love the 'Roy Dotrice Interview' as he has a heck of a time explaining why director Stanley Donen chose to use his voice overtop the Keitel performance.
Worth the Moola: An odd egg if every there was one, both the visuals and eerie Keitel vocals are out of this world.