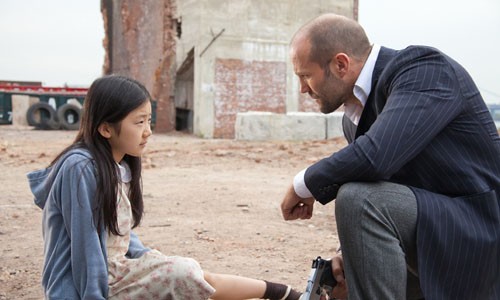 Jason Statham's new partner in action is a...little girl?  We're checking out for ourselves with a look at the new to Blu-ray release of "Safe," out now from Lionsgate Home Entertainment.  Check out the bullet and babysitter reviews below!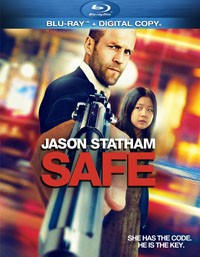 Title: "Safe"
   Grade: 4
   Cast: Jason Statham, Catherine Chan, James Hong
   Director: Boaz Yakin
   Rating: R
   Runtime: 95 minutes
   Release Company: Lionsgate Home Entertainment
   Website: www.lionsgatebluray.com
The Flick: I goofed on this one in the intro but honestly this is the best work from action man Statham yet.  Teaming up with wunderkind 80's maven Boaz Yakin (see "The Rookie!"), "Safe" harks back to the cool character quirks that made those films so revered amongst action fans.  Meaning Statham plays more then just a tough guy in this one, but an ex-cop who punishes himself for the murder of his wife.  It's a much more sullen and emotionally layered Statham then ever before and it adds a ton of weight to the equally tasty action here.  There is some kid angle, but the few scenes young Catherine Chan does have with Statham are fitting to the story and the rest of the time she's paired with larger then life characters like James "Lo Pan" Hong.  Some may feel that Statham is simply a one-note wonder, but for action fans who have always thought that there was more to Statham then meets the eye, "Safe" is finally proof positive.  
Best Feature: There are some forgettable Featurettes that are safely sanitized for your convenience, but there's also thankfully a cool and candid 'Commentary' by director Yakin who makes it as educational for film fans as it is entertaining.
Best Hidden Gem: Seeing highly underused "Fright Night" icon Chris Sarandon playing a slick mayor here is music to a movie geeks ears.
Worth the Moola: Subtle Statham anchored by excellent action – this one is a safe bet.