Blu-ray Review: 'Rolling Thunder'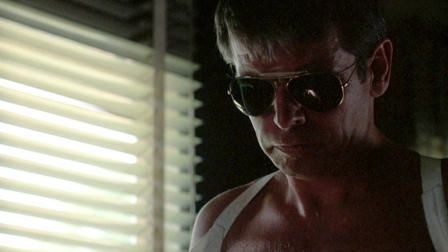 Does anger, revenge and eventual retribution look better on Blu-ray?  We're checking out the new to Blu-ray classic flick "Rolling Thunder" out now from Shout! Factory Home Entertainment.  The hook gets reviewed below!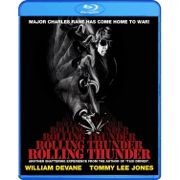 Title: "Rolling Thunder"
   Grade: 4
   Cast: William Devane, Tommy Lee Jones, Linda Haynes
   Director: John Flynn
   Rating: R
   Runtime: 95 minutes
   Release Company: Shout! Factory Home Entertainment
   Website: www.shoutfactory.com
The Flick: The thing that's most chilling about "Rolling Thunder" is not the desolate vibe the entire film has nor the political overtones about men in the military coming home to a country less then appreciative.  No, for me what's so eerie about the classic revenge story is just how calm and serene William Devane's Major Charles Rane is - nothing affects this guy.  Not getting money and fame for his military service, not finding out his wife is cheating on him, not the disconnect he feels with his son and not even when he loses a hand down the garbage disposal to thugs out for cash.  Nope, he just sharpens up his new hook hand, grabs a few guns and does what needs to be done.  (And of course brings an equally war damaged Tommy Lee Jones with him!)  No matter what you think of Rolling Thunder as a flick, Devane nails every beat of this flick hands down.  
Best Feature: Love the new Interviews with a rather coy Devane, a seemingly attempting to distance himself from the flick Tommy Lee Jones and especially a sour Paul Schrader who seems perturbed that his script was changed at all – interesting and telling.
Best Hidden Gem: Again, Devane should have gotten an Oscar nod for this one – Jon Voight in "Coming Home" be damned!
Worth the Moola: If you like your revenge pictures old, dirty and filled with inner rage and turmoil, Rolling Thunder is your flick of choice!