Blu-ray Review: 'Reindeer Games: The Director's Cut'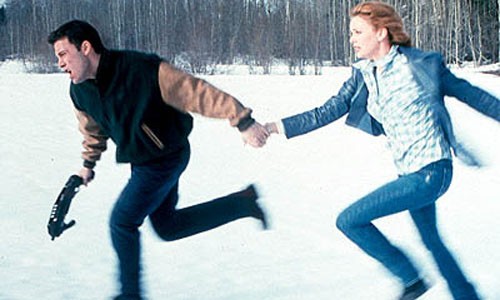 Ben Affleck as...an ex-con?  Sounds a tad far-fetched, but in the hands of legendary Director John Frankenheimer it is possible.  That's why we're checking out the new to Blu-ray flick "Reindeer Games: The Director's Cut" from Lionsgate Home Entertainment.  In the now sole hands of Frankenheimer, how does the flick hold up – check out the skinny below!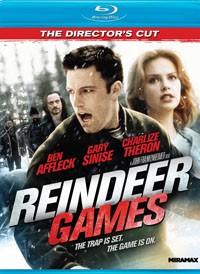 Title: "Reindeer Games: The Director's Cut"
   Grade: 4
   Cast: Ben Affleck, Gary Sinise, Charlize Theron
   Director: John Frankenheimer
   Rating: R
   Runtime: 124 minutes
   Release Company: Lionsgate
   Website: www.lionsgatebluray.com
The Flick: Now this is a John Frankenheimer flick.  The original release of "Reindeer Games" capitalized more on the chummy and quaint sensibility of star Affleck (most likely under the wing of then Miramax honchos the Weinsteins!) and made for a fluffy and forgettable flick.  But this Director's Cut puts the somber back into the film and as a result shows the real filmmaking prowess of its legendary director.  I actually found myself buying more into not only Affleck, but the rest of the star-studded cast including greats like Gary Sinise, Charlize Theron, Denis Farina, Clarence Williams III and even the late Isaac Hayes.  There's a realistic vibe and decent drama that now that permeates the formerly light-hearted vibe and it's a real treat for Frankenheimer freaks...like me!  (Good show!)   
Best Feature: By far the full-length 'Commentary Track' by an honest Frankenheimer who talks everything from his own failures (he calls the flick sloppy and even criticizes his bad lighting on a hot Charlize Theron in her first scene!) to the dangers of test audiences – it's a candid must listen!
Best Hidden Gem: I had forgotten how amazing and funny the great Dennis Farina was in this one – that man was born to do comedy!
Worth the Moola: Much more of a movie this time around, Frankenheimer proves what his longtime fans already knew – when a man knows what he's doing leave him alone you bastards.