Blu-ray Review: 'Real Steel'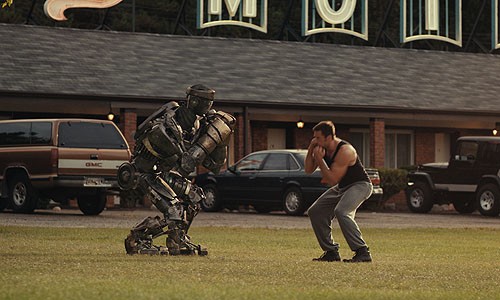 What could be better then Hugh Jackman and a fighting robot?  How about a gaggle of fighting robots!  The metal-minded new father/son bonding flick "Real Steel" hits Blu-ray Jan 24 from DreamWorks/Touchstone Home Entertainment and we're checking out all the robot-ridden action in the review below!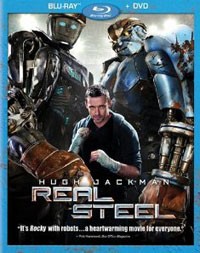 Title: "Real Steel"
   Grade: 4
   Cast: Hugh Jackman, Dakota Goyo, Evangeline Lilly
   Director: Shawn Levy
   Rating: PG-13
   Runtime: 127 minutes
   Release Company: Dreamworks/Touchstone Home Entertainment
   Website: www.SteelGetsReal.com
The Flick: While the main story arc of "Real Steel" is the familiar 'father must win the heart of long lost son' bit already done to death, I still dug the sentimental tone of this one.  Of course it helps that there are also a gang of giant fighting robots amidst the family fluff, which provide the film with some standout spectacle to enjoy between human bonding bouts.  Look, the drama is decent enough via Director Shawn "Cheaper by the Dozen" Levy, but anyone who rents this wants badass bots – "Real Steel" delivers.
Best Feature: This is one of the few times when the extras on a disc are more impressive then the actual film.  With a cavalcade of cool bonus features that include the 'Second Screen' feature and decent 'Deleted/Extended' scenes this one has got the goods.  Loved the 'Making of Metal Valley' featurette that shows just how far it takes to get one tasty shot (I have new respect for Director Levy!), but 'Building The Bots' where we see the erecting of life size giant robots is king.
Best Hidden Gem: Olga Fonda is equal parts hot and snooty as the wealthy Farra Lemcova – love her.
Worth the Moola: Especially eye popping on Blu-ray, "Reel Steel" is best when the bots do their bit.