Blu-ray Review: 'Ravenous'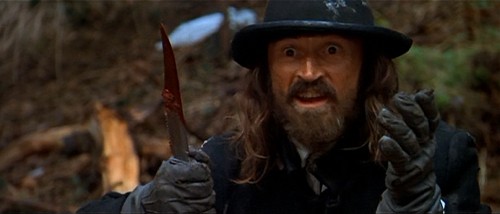 Is that steak ribeye, porterhouse or...human?  We're checking out the new to Blu-ray meat movie "Ravenous" out now from Shout! Factory's genre division Scream Factory.  The quality of the beef gets reviewed below!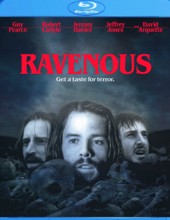 Title: "Ravenous"
   Grade: 3
   Cast: Guy Pearce, Robert Carlyle, Jeffrey Jones
   Director: Antonia Bird
   Rating: R
   Runtime: 100 minutes
   Release Company: Shout! Factory Home Entertainment
   Website: www.shoutfactory.com
The Flick: As a flick "Ravenous" always felt a little uneven to me, but that doesn't mean there aren't moments of brilliance.  Meaning the tone of Antonia Bird's horror comedy isn't sure exactly what it wants to be, but in mismatching its genres finds great stuff within both.  On the horror side there is the creepy and eerie work by an unhinged Robert Carlyle as a man with firm faith in the flesh (he still gives me nightmares in this one!) and on the comedic road there is the flippant work by Ferris Bueller alum Jeffrey Jones who has never met a scene he can't make funny.  But this one always felt like a director for hire at the last minute outing (for finely tuned Bird work see "Priest!") and as such lacks a single focused vision.
Best Feature: With three totally wasted commentary tracks in desperate need of a moderator (Carlyle doesn't chime in until well into the film!) and some honesty, it's the interview with Jones that saves the day.  He comes refreshingly clean about all the director and production problems and gives the fans what they really want – the true story!
Best Hidden Gem: There's insight here from the late Bird that's worth checking out if not for anything else but nostalgic purposes.
Worth the Moola: Interesting for sure, but far from perfect, "Ravenous" is worth a night's rental.