Blu-ray Review: 'Rabbit Hole'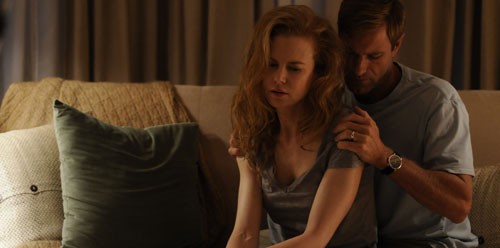 Deep, dark and dreary – all made better with Blu-ray?!  (Or maybe not!)  We're taking a look at the Nicole Kidman/Aaron Eckhart drama "Rabbit Hole" hitting shelves April 19.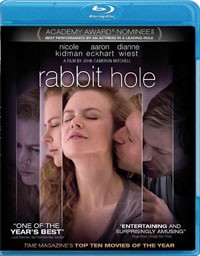 Title: "Rabbit Hole"
   Grade: 2 1/2
   Cast: Nicole Kidman, Aaron Eckhart, Dianne Wiest
   Director: John Cameron Mitchell
   Rating: PG-13
   Runtime: 92 minutes
   Release Company: Lionsgate
   Website: www.rabbitholefilm.com
The Flick: "Rabbit Hole" is a film with gloomy acting, hard-hitting emotion and a dark underbelly – not exactly an enjoyable night out at the movies.  Meaning while there are some high quality performances (Kidman is ever emotional and Eckhart is decent) and moving moments, the subject matter of the film is gut wrenching and frankly a real downer.  (How do you move on when your kid is killed?)  Important?  Yes.  Touching?  Certainly.  But is this flick to recommend to friends that gets better with multiple viewings?  Not likely.    
Best Feature: The Deleted Scenes, which do give more insight behind some of the mysteries in the film.  (aka the woman who avoids Kidman and buying the b-day gift.)
Best Hidden Gem: Also in the Deleted Scenes, the answer to the line 'How do you get fired from Applebee's?" – "Politics."
Worth the Moola: Watching this once is going to be a difficult enough, but owning it – not unless you're a glutton for punishment.