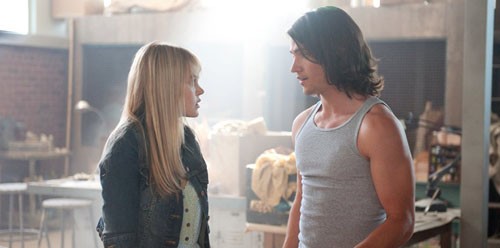 The good girl.  The bad boy.  (And their sparks!)  The Jock.  The school princess.  And even the geek desperate for a date.  Sound familiar?  It should as there have been a gaggle of flicks with such familiar folks, but can the Disney helmed version called "Prom" (out on Blu-ray combo pack August 30 via Walt Disney Home Entertainment!) add something new to the tired formula – check out the good or bad attendees list below!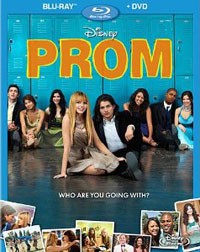 Title: Prom
   Grade: 4
   Cast: Aimee Teegarden, Thomas McDonell, Nicholas Braun
   Director: Joe Nussbaum
   Rating: PG
   Runtime: 104 minutes
   Release Company: Walt Disney Home Entertainment
   Website: www.DisneyBluray.com  
The Flick: What seems on the outside like a desperate Disney cross between "10 Things I Hate About You" and "Can't Hardly Wait" actually turns out to be a fairly cool, engaging and even at times thought-provoking little mouse-eared movie.  (Who knew that Disney had this in 'em!)  In any case the picture is undeniably filled with every cliché, from the good gal who falls for the not-as-he-seems bad boy (Teegarden and McDonell respectively!) to the guy who can't get a date for prom (the engagingly desperate Braun!), but all works thanks to the decent and sincere script via Katie Wech.  (Always send a woman to do romance and sensitivity right!)  There's just the right amount of teen angst blended with Disney fluff to make "Prom" worth putting on the tux to see.  (Or sitting down with a vat of ice cream and your bunny slippers  - what ever tickles your fancy!)
Best Hidden Gem: Former "Dear John" star Jere 'Kirk Morris' Burns plays the stern principal in this one – good to see him back in charge!
Best Feature: Definitely avoid the 'Last Chance Lloyd' Exclusive Short like a unwelcome pimple, as it's far from funny (Braun's shtick works in the flick – not here!) and just go right to the 'Deleted Scenes' for a pinch more of Principal Burns – the Kirk mystic is back intact! 
Worth the Moola: I have to say yes – kids will obviously dig it and adults can enjoy "Prom's" wears as well.  (Under the false and protective guise of watching it just to 'spend time with the kids' – yeah right!)