Blu-ray Review: 'Playback'
A little Slater and the supernatural – we're checking out the new to Blu-ray flick "Playback" out now from Magnolia Home Entertainment.  The ghostly review lies below!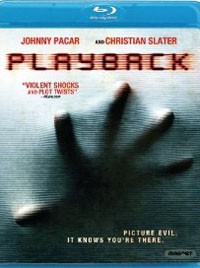 Title: "Playback"
   Grade: 1
   Cast: Johnny Pacar, Toby Hemingway, Christian Slater
   Director: Michael A. Nickles
   Rating: R
   Runtime: 98 minutes
   Release Company: Magnolia Home Entertainment
   Website: www.magpictures.com
The Flick: In this bad "Nightmare on Elm Street" mixed with "Shocker" thriller there isn't much to rave about.  There are bad effects, bad dialogue, bad pacing and even bad acting (and anyone who can make Christian Slater come off dull needs to stop making movies now!) – and that's just the first five minutes!  (Just kidding – it's the whole thing!)  There's just not much movie meat within this horror flick to hold any kind of interest, especially since there's not a single character we care for within.  Even the quotes for this one stretch the bounds of movie glee talking about the "impressive" editing and cinematography that "catches the eye."  "Playback" the praise and move along – there really is nothing to see here.
Best Feature: The 'Behind the Scenes' is studio glossy, but at least has a bit of everything.  (Including ingredients of vomit that we see go into an actor's mouth before a take - yuck!)
Best Hidden Gem: Actress Jennifer Missoni goes from dork to diva in a small but single shining light performance that sadly only comes in the last act – too little, too late.
Worth the Moola: Don't care of your horror rental has any redeeming qualities?  You've found your pick!