Blu-ray Review: 'Pirates of the Caribbean: On Stranger Tides'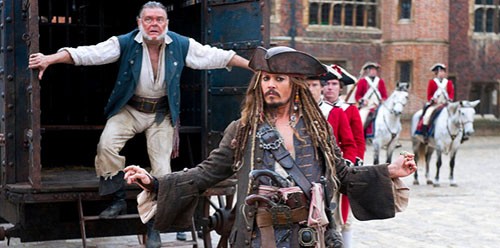 Will a fourth go round involving the fountain of youth finally mean some real booty treasure (and not just the feminine type!) for old Jack Sparrow?  Check out the review of the latest Captain Jack installment "Pirates of the Caribbean: On Stranger Tides" out this week in Blu-ray from Walt Disney Home Video.  Mermaid...and very opinionated infested waters below!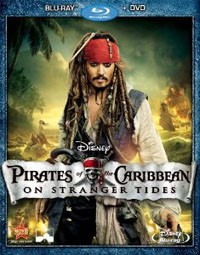 Title: "Pirate of the Caribbean: On Stranger Tides"
   Grade: 3
   Cast: Johnny Depp, Penelope Cruz, Geoffrey Rush
   Director: Rob Marshall
   Rating: PG-13
   Runtime: 136 minutes
   Release Company: Walt Disney Home Entertainment
   Website: www.DisneyBluray.com  
The Flick: Ever since Disney began patting Depp on the back for his unconventional work as Captain Jack instead of chastising him, sea dog Sparrow has gotten a tad watered down.  Don't get me wrong, as there is still some sass and crass in the mangy pirate, but with the likes of Keira and Orlando MIA this time around, the more stoic Jack is looked upon to take the lead reigns and thus some of the goofy in this goof has floated away with the Pearl.  There are still tons of memorable side characters to pick up the whacky slack – Geoffrey Rush as the smarmy Barbossa, Ian McShane as the cunning Black beard and even a gaggle of fierce mermaids – but it's the mis-adventures of the man who had little pirate skill that's ultimately missed.
Best Feature: The lush 'Second Screen' capabilities to give an extra dose of dazzling to an already amazing looking Blu-ray.
Best Hidden Gem: 'Bloopers of the Caribbean' gives us some sass back!
Worth the Moola: A good adventure and a fun evening rental – but for my money I like Jack back when he was an annoying pirate sword in the side of a perturbed mouse-earned company.