Blu-ray Review: 'Phantasm II: Collector's Edition'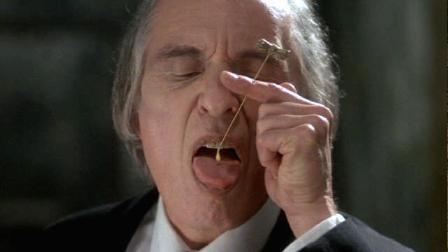 Ready to check out the ball with more moola?  Then follow us as we dissect the new to Blu-ray version of "Phantasm II: Collector's Edition" out now from Shout! Factory's horror label Scream Factory.  The ball review slices and dices below.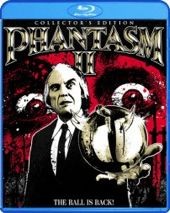 Title: "Phantasm II: Collector's Edition"
   Grade: 4 1/2
   Cast: James Le Gros, Reggie Bannister, Angus Scrimm
   Director: Don Coscarelli
   Rating: R
   Runtime: 95 minutes
   Release Company: Shout! Factory Home Entertainment
   Website: www.shoutfactory.com
The Flick: As a flick, "Phantasm II" takes exactly what made the first flick great and puts a massive budget behind it.  Distributed at the time by the all powerful Universal, "Phantasm II" was a classic case of what cool stuff could be done for an indie flick when a budget is attached.  And under the ample director of Don "Bubba Ho-Tep" Coscarelli, the film is a virtual carnival of cool gags (how about some melting Tall Man!), effects (the vicious balls are truly inspired here!) and fun horror scares.  And while it's strange to see a young James Le Gros playing the role A. Michael Baldwin played in the other films, Reggie Bannister has a far more meaty and funny role this time around, plus we get Angus Scrimm Tall Man action that's iconic.  A great reason to give small filmmakers more money, "Phantasm II" is bigger, better, but still bold and beautiful to boot. 
Best Feature: The featurette "The Ball is Back" is one through and descriptive mother featuring footage, candid interviews and such.  Only problem (and hence the ½ star off!) – even though they chat about his inclusion into the film with honest detail James Le Gros is nowhere to be found on this Blu-ray. 
Best Hidden Gem: The awesome featurette 'Greg Nicotero: The Gory Days' has the legendary KNB EFX man chatting up in incredible detail the various gags they came up with for the film.  (The sideways ear thing is pure genius!)
Worth the Moola: With a slight miss of no James Le Gros, Shout! Factory hits it out of the horror park once again.