Blu-ray Review: 'One For The Money'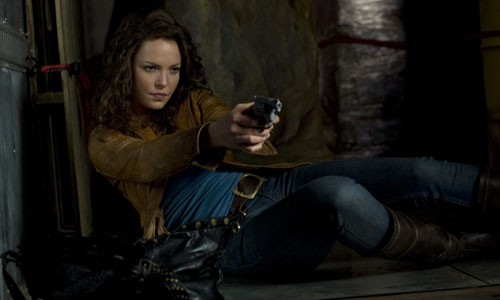 Female bounty hunter catching crooks and looking hot – should be a movie slam dunk, right?  We're gonna find out when we check out "One for the Money" out on Blu-ray May 15th from Lionsgate Home Entertainment.  Follow the feminine power below!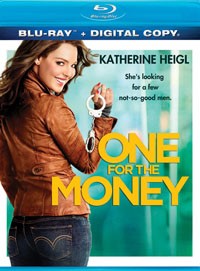 Title: "One for the Money"
   Grade: 2 1/2
   Cast: Katherine Heigl, Jason O'Mara, John Leguizamo
   Director: Julie Ann Robinson
   Rating: PG-13
   Runtime: 91 minutes
   Release Company: Lionsgate Entertainment
   Website: www.lionsgatebluray.com
The Flick: With some good scenes and characters, "One for the Money" is far from being flawless.  Lead Katherine Heigl is playing a female bounty hunter who isn't exactly a pro at the job, so story wise it leaves her a lot more to overcome then her simply being a woman.  Plus there's little chemistry between Heigl and her would-be target Jason O'Mara, not to mention the whole hooker with a heart storyline involving Sherri Sheperd is a tad on the schmaltzy side.  (Though Shepard's own acting work is good!)  On the plus side there's some great side characters in the form of "Rescue Me's" Daniel Sunjata as a tough fellow hunter, Patrick Fischler as Heigl's sleazy cousin and the always quick John Leguizamo as a gym owner.  So while this one has the sting of the fluff flick, there's enough side cool to ease the pain.
Best Feature: LOVE the featurette 'Bond Girls: Kicking Ass in the Bail Bonds Industry' that shows the real-life ladies of the law from Lipstick Bail Bonds taking names and kicking ass.  (And unlike Heigl's hapless hunter these dames you don't want to mess with!)
Best Hidden Gem: In one of the smallest but most effective parts ever, Patrick Fischler all but steals the show as the greasy cousin of Heigl.
Worth the Moola: Worth a night's rental – but not for the reasons you may think.