Blu-ray Review: 'O Brother, Where Art Thou?'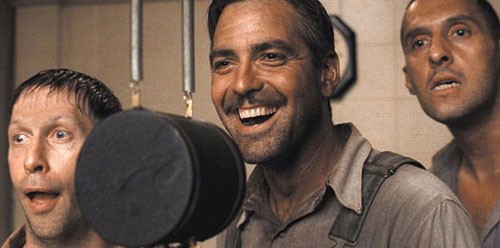 A Coen musical comedy...on Blu-ray?  You bet!  The classic Coen Bros. outing "O Brother, Where Art Thou?" starring George Clooney, John Turturro and Tim Blake Nelson is now available via Disney/Touchstone Home Entertainment and were checking out it's legit (and not so legit – prison break style!) specs below – head down brother!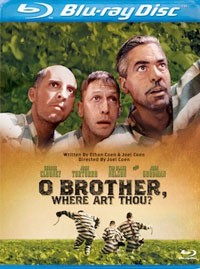 Title: "O Brother, Where Art Thou?"
   Grade: 4
   Cast: George Clooney, John Turturro, Tim Blake Nelson
   Director: Ethan Coen & Joel Coen
   Rating: PG-13
   Runtime: 107 minutes
   Release Company: Disney/Touchstone Home Entertainment
   Website: www.BVHEBluray.com
The Flick: While not the quirkiest (see "Raising Arizona!"), the strangest (see "Barton Fink!") nor the most clever (see "The Hudsucker Proxy!") you have to give "O Brother, Where Art Thou?" it's rightful place next to all other original cool Coen material.  With it's vast visual landscapes and memorable music that's almost a secondary character, the Coen team take an odd Three Stooges musical approach and it's engaging as hell.  Not to mention that the cast that includes regulars (the 'Jesus' John Turturro sports oversized teeth!) and newbies (Tim Blake Nelson is the Steve Buscemi of this material!) all take to the tale like a duck to water. (Plus anyone who can get this kind of work out of the very stoic George Clooney is tops in terms of director's in my book!)  Good sounds, good story, good flick.   
Best Feature: In the 'Making Of' featurette the Coens talk unusually more and in much detail about their 'Laurence of Arabia of Hayseed Movies' – good to hear from you boys!
Best Hidden Gem: Coen staple John Goodman almost steals the show as the not-as-he-seems bible salesman 'Big Dan' – vicious bastard!
Worth the Moola: This is an outing MADE for Blu-ray with Director of Photography Roger Deakins visuals and the eclectic music score both soaring in this format – purchase will not bring 'constant sorrow!'