Blu-ray Review: 'Nurse 3D'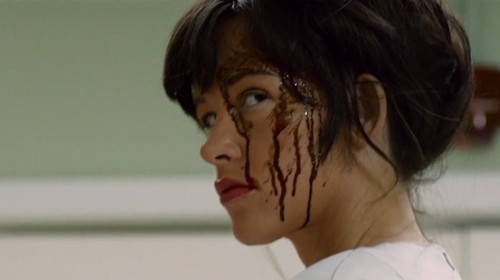 Ready for your bloody nurse – in a third dimension?  (Watch out!)  Then follow us as we check out the new to Blu-ray flick "Nurse 3D" out now from Magnolia Home Entertainment.  We check the blood pressure and pulse – which are high – below!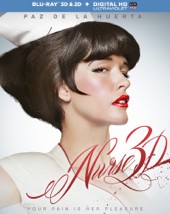 Title: "Nurse 3D"
   Grade: 4
   Cast: Paz De La Huerta, Katrina Bowen, Corbin Bleu
   Director: Doug Aarniokoski
   Rating: R
   Runtime: 84 minutes
   Release Company: Lionsgate Home Entertainment
   Website: www.lionsgateshop.com
The Flick: Fun friggin' flick.  "Nurse 3D" had some of the zaniest and most arresting poster artwork to come out last year and it's a pleasure to say that now the film itself is equally as fun and wild.  In a tour-de-force performance (for the naked, killing, obsessive nurse set!) lead gal Paz De La Huerta gives an inspired turn as a naughty nurse with an affinity for eliminating cheating men.  Of course there are many gimmicks here from stunt casting (brat packer Judd Nelson as a sleazy doctor!) to visual trickery (watch as the ass and knives hit you in 3D!), but in the end this flick belongs to De La Huerta.
Best Feature: Like both the making-of featurette 'Bad Medicine' (we get to hear insight from De Le Huerta herself!) and the 'Commentary' track with Director Doug Aarniokoski (he states De La Huerta insisted she go naked from the waist down for character reasons!), but just wish there was more insight into this mysterious and engaging woman.
Best Hidden Gem: Again this one lives and dies with the talented De La Huerta – I bow.
Worth the Moola: Sex, sin and other salacious health care brilliance – where's that damn call button?!