Blu-ray Review: 'Ninja III: The Domination'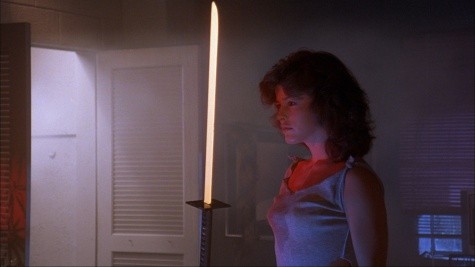 "The Exorcist" meets..."Enter the Dragon?!"  We're checking out the very odd 80's egg "Ninja III: The Domination" out now from Shout! Factory's horror division Scream Factory.  The possessed kung fu gets reviewed below.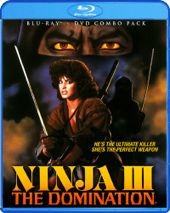 Title: "Ninja III: The Domination"
   Grade: 2
   Cast: Sho Kosugi, Lucinda Dickey, Jordan Bennett
   Director: Sam Firstenberg
   Rating: R
   Runtime: 92 minutes
   Release Company: Shout! Factory Home Entertainment
   Website: www.shoutfactory.com
The Flick: Whoever thought that demon possession and martial arts was a good mix could have been right – just not in the 80's.  This sad attempt to cash in on the fame from the previous "Revenge of the Ninja" sees "Breakin' 2: Electric Boogaloo" gal Lucinda Dickey kicking ass and spitting pea soup as an aerobics instructor who gets taken over by the spirit of a might pissed ninja.  This one is chocked full of 80's flair like cool hair helmets, leg warmers and even bad 80's music that makes the songs of "Flashdance" seem like Mozart.  The only cool bits of the flick are when martial arts man Sho Kosugi shows up and does his thing.  Dominated by bad acting, this ninja needs more training.
Best Feature: The commentary by Director Sam Firstenberg could have been a real winner with the dude talking candid (he admits he there's a lot of "Poltergeist" in here!) and keeping it real.  (Lucinda was the number two choice and got the role when #1 bowed out!)  Problem is Stunt Coordinator Steve Lambert takes over and annoys with constant shout outs to his stunt work (look mom - it's me!) every five seconds.  Lose Lambert – Boogaloo director Firstenberg is ample audio enough.
Best Hidden Gem: We do get to see a half naked Lucinda – from the back.  (What a rip!)
Worth the Moola: Bad acting, bad music and a seriously bad hair day – what's not to love!