Blu-ray Review: 'Night of the Demons - Collector's Edition'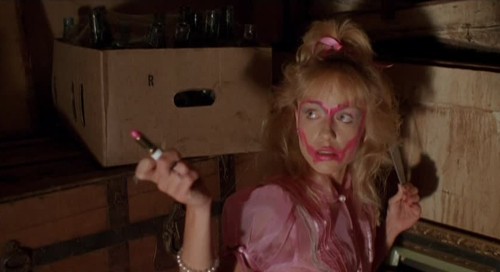 Ready to attend a dark party hosted by Angela once more?  Then follow us as we check out the Blu-ray release of 1988's "Night of the Demons – Collector's Edition" out now from Shout! Factory's horror division Scream Factory.  The party and the bloody favors within get reviewed below!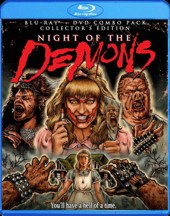 Title: "Night of the Demons – Collector's Edition"
   Grade: 3 1/2
   Cast: William Gallo, Amelia Kinkade, Linnea Quigley
   Director: Kevin S. Tenney
   Rating: Unrated
   Runtime: 90 minutes
   Release Company: Shout! Factory Home Entertainment
   Website: www.shoutfactory.com
The Flick: I can't say that the heavy B-movie cheese of "Night of the Demons" holds up one hundred percent, but there are some tasty bits within the party walls.  Director Kevin S. Tenney got the best 80's nudity for sure so there's some unforgettable underskirt shots via scream queen legend Linnea Quigley and others, there's a hot dance via Amelia Kinkade, not to mention some very tasty and gross-out effects courtesy of Steve Johnson.  Yes there are dull and predictable parts, bad 80's clichés and characters right out of the stereotype hall of fame, but for some horror nostalgia this night has some life left in it.
Best Feature: As with all Scream Factory releases the amazing and comprehensive features on this disc outshine the film itself and all are stellar – from the very listenable two 'Commentary Tracks' to 'Interviews' with everyone involved.  (Kinkade is the niece of Golden Girl Rue McClanahan!)
Best Hidden Gem: Love seeing any work by icon Linnea Quigley and here you get to see it all - thong, creepy lipstick all over her face and various crazed moments!
Worth the Moola: Worth a walk down memory lane for this B-movie outing – but beware as fromage is on the menu!