Blu-ray Review: 'Night Of The Comet - Collector's Edition'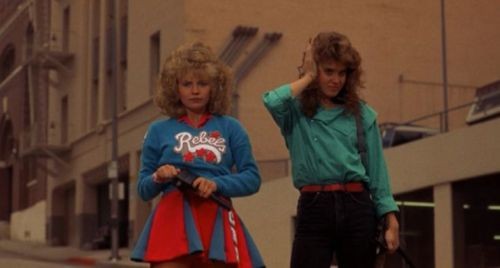 Ready to follow two Valley girls into an empty world?  Then follow us as we check out the new to Blu-ray classic flick "Night of the Comet – Collector's Edition" out now from Shout! Factory's horror division Scream Factory.  We're not crazy, we just don't give a...but we'll still review it below!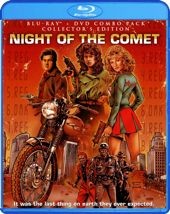 Title: "Night of the Comet – Collector's Edition"
   Grade: 5
   Cast: Catherine Mary Stewart, Kelli Maroney, Robert Beltran
   Director: Thom Eberhardt
   Rating: PG-13
   Runtime: 95 minutes
   Release Company: Shout! Factory Home Entertainment
   Website: www.shoutfactory.com
The Flick: I've already spread my love and admiration for Thom Eberhardt's ahead of it's time cult classic "Night of the Comet" (see my former review HERE!), but watching it on the small screen you really appreciate even more the chemistry and characters played by on-screen sisters Catherine Mary Stewart and Kelli Maroney.  Their quick quips, wry dialogue and even more sad and poignant moments are the heart of Comet and make coming along for the ride all the sweeter.
Best Feature: EVERY feature on this disc kicks ass – it's five-star stuff.  From the candid interviews with Stewart, Maroney and especially Robert Beltran (he was fighting the producers over the direction of the character!) to no less then three audio commentaries (the best of which is the memory lane track with Stewart and Maroney – I love those two together!) this edition is truly for the collecting fan.
Best Hidden Gem: Mary Wornov shows up as a scientist with a conscience in this one – and frankly she has never looked more stunningly beautiful.
Worth the Moola: Great flick, the complete array of extras and a cool artwork cover to boot – if this was the last Blu-ray on earth things would be looking up.