Blu-ray Review: 'My Week With Marilyn'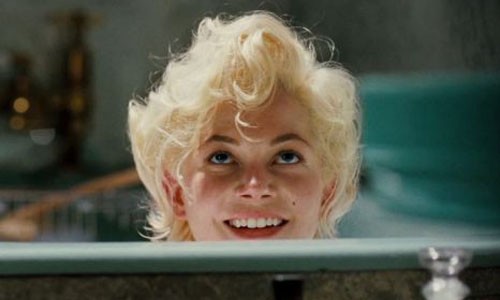 Michelle Williams channeling...Marilyn Monroe.  See if some like it hot with a look at the new to Blu-ray flick "My Week With Marilyn," out this week via The Weinstein Company and Anchor Bay Entertainment.  The air blowing review grate is below!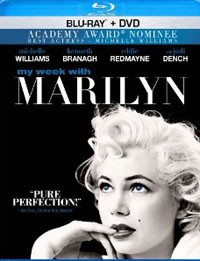 Title: "My Week With Marilyn"
   Grade: 3
   Cast: Michelle Williams, Kenneth Branagh, Eddie Redmayne
   Director: Simon Curtis
   Rating: R
   Runtime: 99 minutes
   Release Company: Anchor Bay/The Weinstein Company
   Website: www.anchorbayent.com
The Flick: As an actress, performer and image icon, Marilyn Monroe had a surface veneer that most never got to see past.  What is interesting about My Week With Marilyn is getting a chance to see the real woman behind the legend and through Michelle Williams it is quite impressive work to see.  Though Marilyn's tireless angst and insecurities on and off the set during the shooting of "The Prince and the Showgirl" do get a tad annoying here (I'm sure as much as they did on the real set!) and prove that beauty is only skin deep.  The rest of the cast does pick up the mundane slack, with Kenneth Branagh a perfect aging Laurence Olivier, Emma Watson great but underused as a sassy costume designer and the always spirited Judi Dench doing what she does best.  But this one is a lot like the recent films of Williams ("Blue Valentine" and the like) - equally parts riveting and hard to sit through.    
Best Feature: "The Untold Story of an American Icon Featurette" is a decent doc with everything from interviews (Williams had a Monroe poster on her wall!) to a look at the real life locations.
Best Hidden Gem: Loved Devil's Double lead man Dominic Cooper as a wrangler and former lover of the captivating Marilyn.
Worth the Moola: Again, Williams work is both noteworthy and arduous – look, when you have a Pete 'Quote Whore' Hammond line on the box that says, "One of the most purely entertaining films of the year" something is amiss.