Blu-ray Review: 'Muppets Most Wanted'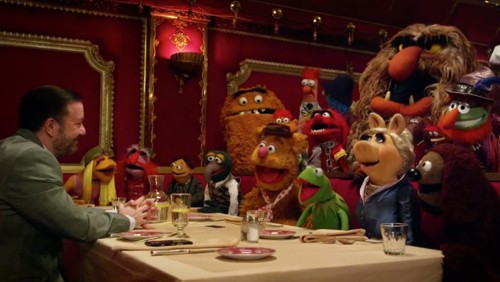 Can Kermit survive...jail time?  We're gonna find out as we check out the new to Blu-ray film "Muppets Most Wanted" out now from Disney Home Entertainment.  We review where this one fits on the Muppet strings scale below!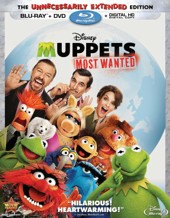 Title: "Muppets Most Wanted"
   Grade: 1 1/2
   Cast: Ricky Gervais, Ty Burrell, Tina Fey
   Director: James Bobin
   Rating: PG
   Runtime: 124 minutes
   Release Company: Disney Home Entertainment
   Website: www.DisneyBluray.com
The Flick: Having been a big fan of the last heart filled outing "The Muppets" with Jason Segal, this one felt like a total kneecapping.  Horrible, unfunny and painfully arduous to sit through, "Muppets Most Wanted" takes all the good that came out of the last one and repeats none of it.  Even the cast is at their worst – from Ricky Gervais as the slick and sly agent to Tine Fey as a prison warden all fall flat.  (The only actor to go unscathed is Ty Burrell playing an deliciously over-the-top detective!)  But the worst part of all is none of the songs have a toe tapping life beyond thirty seconds – death for the memorable song singing Muppets.
(That being said I watched this one with my four-year-old Jack and he was glued.  Don't know if it was the story or the Muppets themselves, but he did like this one.  The audience hath spoken.)
Best Feature: Jack seemed to gravitate to the featurette 'The Longer Longest Blooper Reel in Muppets History' which at least has some mildly humorous moments.
Best Hidden Gem: I liked at least seeing the seriously underused Jemaine "Gentleman Broncos" Clement as one of the singing and dancing prisoners.
Worth the Moola: Horrible for older folks, but a sure thing for the small set, the Muppets are back for what it's worth.