Blu-ray Review: 'Motel Hell - Collector's Edition'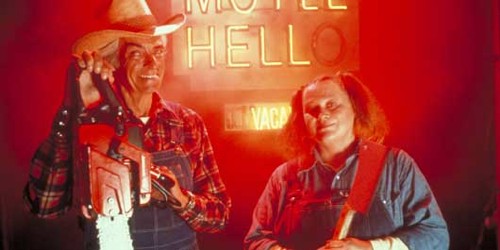 Ready to find out what the heck is actually in Farmer Vincent's Fritters?  Then follow us as we check out the new to Blu-ray horror flick "Motel Hell – Collector's Edition" out now from Shout! Factory's genre division Scream Factory.  The recipe gets revealed and reviewed below!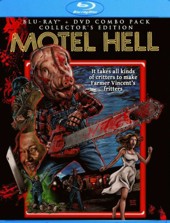 Title: "Motel Hell – Collector's Edition"
   Grade: 3 1/2
   Cast: Rory Calhoun, Nancy Parsons, Nina Axelrod
   Director: Kevin Conner
   Rating: R
   Runtime: 101 minutes
   Release Company: Shout! Factory Home Entertainment
   Website: www.shoutfactory.com
The Flick: As a horror flick, "Motel Hell" is as cheesy, gamey and pure 80's as they get.  Featuring elder actor Rory Calhoun as a murdering, flesh eating, people planting weirdo, the film is a mix of Texas Chainsaw and Roger Corman.  Best of the bunch here is Calhoun's wacky sis played by "Porky's" actress icon Nancy Parsons who knows how to both command and ham on cue.  There are plenty of disturbing images like heads in the garden and a pig head mask that linger and disturb, but what do you expect from a flick called "Motel Hell?"  (Just skip the smoked meat!)   
Best Feature: Interviews with Director Kevin Conner, Producer/Writers Robert Jaffe and Steven Charles Jaffe, Actors Marc Silver, Paul Linke and Rosanne Katon all prove fascinating, especially the tales of script inspirations from the ever-so-sick Jaffe boys.
Best Hidden Gem: One of the band members caught and then planted in the head filled garden is none other than Cliff from "Cheers" himself John Ratzenberger!
Worth the Moola: If you're a horror fan this one has more than enough blood, gore and quirky characters to make your stay a memorable one.