Blu-ray Review: 'Monsters University - Collector's Edition'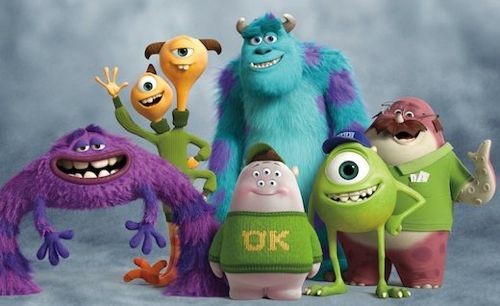 How did those darn monsters who scare because they care start it all?  Follow us as we find out by checking out the new to Blu-ray prequel "Monsters University - Collector's Edition" out now from Pixar & Walt Disney Home Entertainment.  We review the tests and give grades below!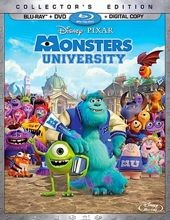 Title: "Monsters University - Collector's Edition"
   Grade: 4
   Cast: Billy Crystal, John Goodman, Helen Mirren
   Director: Dan Scanlon
   Rating: G
   Running Time: 104 Minutes
   Release Company: Pixar & Walt Disney Home Entertainment
   Website: www.DisneyDVD.com
The Flick: I heard many things about this prequel to "Monsters, Inc." and a lot of it was negative.  Gotta say I totally enjoyed the flick.  It may not have been as original in story as the first film, but there's enough "Revenge of the Nerds" themes and quirky side characters running rampant make this one fully entertaining.  This time out Mike and Sulley are at University trying to compete for the Scare Program before they became a duo and it's a classic mix of University fun flicks we've seen in the past.  Plus this one throws in a merry band of animated misfits with voices of Nathan Fillion, Charlie Day (Art has the best body shape EVER!) and Dave Foley that makes it all the sweeter.  Kind of an "Animal House" for the kid set, "Monsters University" keeps the fun (and Art's frame!) rolling.
Best Feature: For kids is definitely the romantic and inspired short 'The Blue Umbrella.'  For adults the seperate disc of 'Bonus Features' takes you right into the Pixar headquarters.  Ever dreamed of working there - it's the next best thing!
Best Hidden Gem: Again, whoever came up with that unbelievably gamey and ripe cool body design for Art deserves the Wayne White award for most original animated character.
Worth the Moola: If you're expecting a groundbreaking new Pixar film in the vein of "Up" look elsewhere.  But if you want to simply hang out and have fun with the "Monsters, Inc." crowd and their new odd buddies this University got game.