Blu-Ray Review: 'Monster's, Inc. 3D: Ultimate Collector's Edition'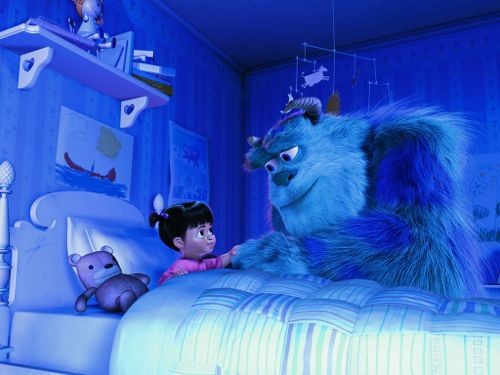 Ready to scare and care...in 3D?  Then follow us through the review door as we check out the new to Blu-ray "Monster's, Inc. 3D: Ultimate Collector's Edition" from Walt Disney and Pixar Home Entertainment available now.  The eyeball gets poked with a review below!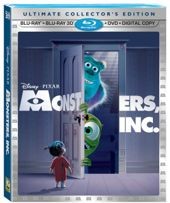 Title: "Monster's, Inc. 3D: Ultimate Collector's Edition"
   Grade: 4
   Cast: Voices of John Goodman, Billy Crystal, Steve Buscemi
   Director: Pete Doctor
   Rating: G
   Runtime: 92 minutes
   Release Company: Walt Disney/Pixar Home Entertainment
   Website: www.DisneyBluray3D.com
The Flick: Anyone who isn't amused by the fast talking comedy within "Monster's, Inc." is sans funny bone, as the flick keeps both the sass and schmaltz flowing nicely.  Plus there's just a rare compilation of elements brought together that scare up success.  The voice talents of Billy Crystal, John Goodman and an especially slimy Steve Buscemi, witty dialogue that demands laughs, and some colorful characters within a world of Monsters out looking for a good scream.  In a 3D format both colors and characters pop big time, adding yet another layer of deliciousness to this already flavorful cake.  Let's just hope a sequel will remember why this one is worth revisiting.  
Best Feature: For adults there's a myriad of extra shorts including 'For the Birds', 'Partysaurus Rex' and 'Mike's New Car'.  For the tots keep them occupied for hours with the 'Roz's 100 Door Challenge Game' – something for everyone!
Best Hidden Gem: There's a cool 'Pixar Fun Factory Tour' that finally gives geeks like me a chance to check out the digs!
Worth the Moola: Big eyeball in 3D – little peanut butter and jelly.