Blu-ray Review: 'Margin Call'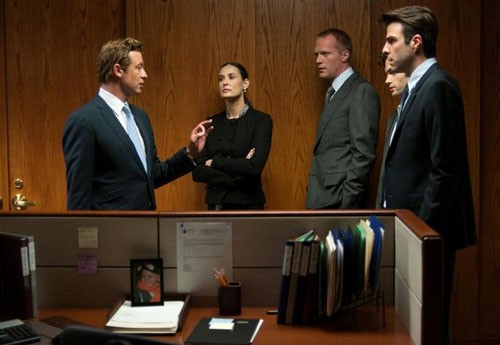 In this time of financial crisis in America, it makes one curious to see just how we got into the mess we're now in.  One such film dares to take on that very subject and Wall Street in all its good bad and ugly in a movie called "Margin Call," out on Blu-ray Dec. 20 from Lionsgate Home Entertainment.  Check out the review stock stats below.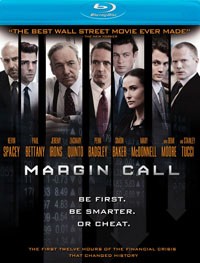 Title: "Margin Call"
   Grade: 3 1/2
   Cast: Kevin Spacey, Paul Bettany, Zachary Quinto
   Director: J.C. Chandor
   Rating: R
   Runtime: 107 minutes
   Release Company: Lionsgate
   Website: www.lionsgatebluray.com
The Flick: The one thing you have to say about "Margin Call" is that, first and foremost, it's got one hell of a cast.  Stanley Tucci (in a small dose that leaves one wanting more!), Kevin Spacey, Jeremy Irons, Paul Bettany (his best work yet!), Zachary Quinto, Simon Baker and even Demi Moore fill out the impressive cast that make this drama a must see good or bad.  Fortunately, "Margin Call" is quite compelling, showing an investment bank forced to navigate the first twelve hours of the financial crisis.  It sounds like a ho-hum heady idea, but writer/director JC Chandor does keep it simple stupid for the folks out there not savvy with Wall Street lingo.  And while there are some stoic bits (certain long conversations could have been cut!) and an inane and inappropriate surprise appearance at the films' conclusion (NEVER introduce a new character in the last few minutes of a movie!), the flick does keep interested cinema callers on the line.
Best Feature: 'The Revolving Door' making-of featurette is not only decent, but a must watch as it's the only extra with some insight into the idea behind the film via comments from Director JC Chandor's inspiration and father Jeff Chandor.  (They did miss the boat on this one – fans want to know more about where the idea came from, not just about how cool the cast is JC!)
Best Hidden Gem: Jeremy Irons relishes his role here as a smug and slick head of the company willing to weasel his way out of the crisis.
Worth the Moola: Just for the killer cast alone.  (But shame on the lack of story history here!)