Blu-ray Review: 'Lifeforce - Collector's Edition'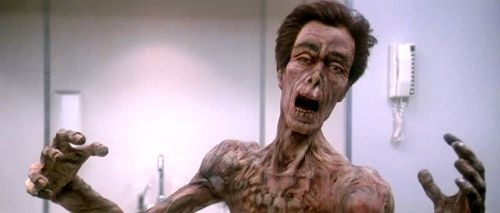 Do all aliens appear naked?  We're gonna find out as we check out the blast from the past new to Blu-ray flick 'Lifeforce: Collector's Edition' available now from Shout! Factory's horror arm Scream Factory.  The effects of aliens are reviewed below!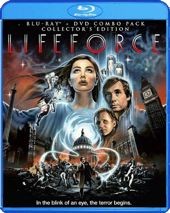 Title: "Lifeforce: Collector's Edition"
   Grade: 4 1/2
   Cast: Steve Railsback, Mathilda May, Peter Firth
   Director: Tobe Hooper
   Rating: R
   Runtime: 116 minutes
   Release Company: Shout! Factory Home Entertainment
   Website: www.shoutfactory.com
The Flick: Even as a kid I remember loving "Lifeforce."  A cool Steve Railsback, savory horror via Texas Chainsaw master Tobe Hooper and an alien gal that essentially walked around naked the entire film – life in the 80's was good.  The film continues to hold up with fantastic special effects for the time, creepy creatures that cook (that skeletal guy gives me the willies!) and alien Mathilda May as sexy as ever as the E.T. minus the threads.  But this is really a tour-de-force for both Hopper and Railsback – I'm forever a fan due to "Lifeforce."
Best Feature: The 'Retrospective' is a fun look at the work behind the film with candid conversations with everyone from Railsback (he met Tobe on the set of Chainsaw!) to May (she saw her naked movements as a dance!) – awesome stuff.
Best Hidden Gem: The very engaging 'Commentary Track' is given the added Scream Factory boost with horror guy Tim Sullivan as the moderator – he's the fan's host!
Worth the Moola: Fabulous flick, awesome extras and a cover worthy of Drew Struzan himself, this one should go into the collection stat!