Blu-ray Review: 'Lawless'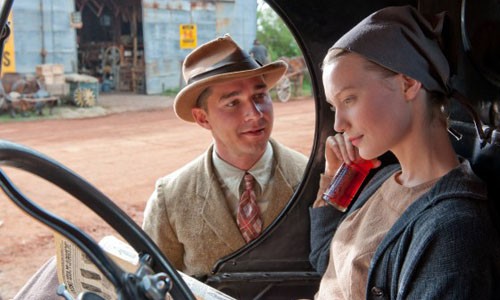 Guns, gals and bootlegging – and not necessarily in that order.  We're checking out the new to Blu-ray flick "Lawless" out now from The Weinstein Company and Anchor Bay Home Entertainment.  The review guns get drawn below!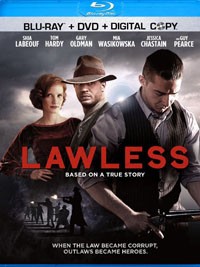 Title: "Lawless"
   Grade: 3
   Cast: Shia LaBeouf, Jessica Chastain, Mia Wasikowska
   Director: John Hillcoat
   Rating: R
   Runtime: 116 minutes
   Release Company: The Weinstein Company / Anchor Bay Home Entertainment
   Website: www.anchorbayent.com
The Flick: "Lawless" is a film that wants to be so much more then it appears, but unfortunately what you see is what you get.  There are some mighty tasty side roles in the form of tough guy Gary Oldman and sleazy lawman Guy Pearce, but the lead gents don't fare as well.  As brothers and bootleggers, Tom Hardy (in a quiet and dull turn), Jason Clarke (zero charisma) and Shia "Battle of Shaker Heights" LaBeouf (he's trying to lose the Shia persona here...and failing) are a trio that just don't come off as engaging or believable.  In fact, the boys here have to take a bow to ladies Jessica Chastain and Mia Wasikowski, who all but steal the show as the sweet yet complex ladies that hold the unstable Bondurant bros together.  But in the end "Lawless" still suffers from being LaBeoufinized – his nice character and happy endings are predictably  inevitable.    
Best Feature: The featurette 'Lawless – The True Story of the Wettest County in the World' at least has actor insight from most involved with the most telling stuff once again coming from the ladies in the house.
Best Hidden Gem: In a role that's all too short on screen time, but long on being memorable "Flirting" star Noah Taylor steals his scenes playing a weasel like gunman.  (They should have given him the LaBeouf role!)
Worth the Moola: A run of the mill tale of booze and guns, this one has ladies luck to thank for elevating the work.