Blu-ray Review: 'Last Vegas'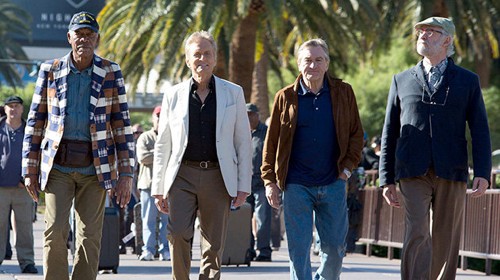 Can you do one last hurrah in Vegas even in your elder years?  We're looking to see as we check out the new to Blu-ray title "Last Vegas" out now from Sony Pictures Home Entertainment.  The booze and Bengay gets used and reviewed below!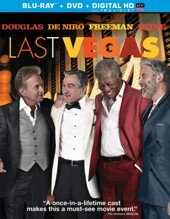 Title: "Last Vegas"
   Grade: 3 1/2
   Cast: Michael Douglas, Robert De Niro, Kevin Kline
   Director: Jon Turteltaub
   Rating: PG-13
   Runtime: 105 minutes
   Release Company: Sony Pictures Home Entertainment
   Website: www.sonypictures.com/bluray
The Flick: Even for a flick about a Vegas bachelor party involving elder gents, "Last Vegas" does have a simple and safe feel to it.  But it's the prowess and screen chemistry between said older gents that makes this one shine beyond the typical humor ridden screenplay.  Michael Douglas, Robert De Niro, Kevin Kline and Morgan Freeman play good friends out to celebrate Douglas getting married to a young chippie – Vegas style.  The events are pretty much standard guy fare (bikini contests, wild parties and gambling), but so watchable and charming are each here that it makes up for all shortcomings.
Best Feature: With a very self-congratulatory 'Commentary' I would have to go with the 'Featurettes' here – but even those have a very glossy and polished feel to them.  (aka commercial alert!) 
Best Hidden Gem: Loved seeing the still stunning Mary Steenburgen here as a smoky lounge singer.
Worth the Moola: Even with a sub-par and safe script, Last Vegas still has enough heavy hitters to make it a winner.