Blu-ray Review: 'Lake Placid - Collector's Edition'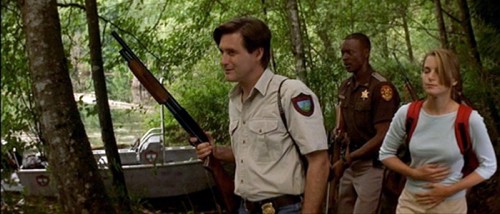 Going hunting for a croc...the size of an elephant?  The follow us as we check out the new to Blu-ray thriller "Lake Placid - Collector's Edition" out now from Shout! Factory's genre division Scream Factory.  We examine the teeth and all up close below!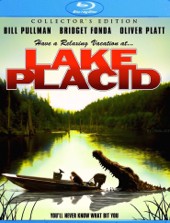 Title: "Lake Placid - Collector's Edition"
   Grade: 4
   Cast: Bill Pullman, Bridget Fonda, Oliver Platt
   Director: Steve Miner
   Rating: R
   Runtime: 82 minutes
   Release Company: Shout! Factory Home Entertainment
   Website: www.shoutfactory.com
The Flick: Always loved the combination of Director Steve Miner (who could do horror with "House" and silly with "Soul Man!") and writer David E. Kelley for of all things a crocodile movie.  Meaning the scares, laughs and wit are in full force with both men showing the best of their abilities here.  Plus the film has a cast that's pitch perfect to die for – Bill Pullman as the surly ranger, Bridget Fonda as the neurotic paleontologist, Oliver Platt as the croc hunting nut and an early Brendan Gleeson as the local sheriff.  "Lake Placid" is a fun and scary little hidden gem – hail its resurrection!
Best Feature: The section of interviews with Pullman, Miner and others gives fun insight into the flick – Scream Factory knows their extras audience!
Best Hidden Gem: As the cause of it all, the iconic Betty White shows up providing a little elder folk attitude.  (When she curses it seems so natural!) 
Worth the Moola: If you haven't seen this one yet there's a treat awaiting and for those who have a revisit is recommended.